By David Papannah
A Guyana Sugar Corpora-tion (GuySuCo) guard was found dead on the West Bank of the Canje Creek yesterday morning, a day and a half after he was last seen alive.
Krisendat Madramootoo, called 'Madray,' 57, a sluice guard of Lot 115, Gangaram Settlement, East Canje, left home for work as per normal around 8pm on Sunday evening. He never arrived. Except for the discovery of his belongings at a pit stop at Reliance, there was no trace of him until his body was found at about 6:30am yesterday.
Madramootoo was clothed only in his underwear. There were no marks of violence or any visible wound on the man's body but his body was in such an advanced state of decomposition that funeral parlours refused to store it for an autopsy. Stabroek News also learnt that the New Amsterdam Hospital also refused to store the body for the autopsy. As a result, Madramootoo was laid to rest yesterday afternoon.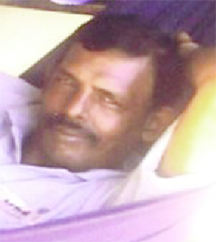 The man's widow, Kuppamah Madramootoo, 54, learnt that her husband was missing on Monday morning when she received a telephone call from an anonymous caller, who informed her about the disappearance of her husband. "Early Monday morning somebody called and asked for my husband and I told them that he has not returned home. Then, the body said that they can't find him and his clothes, bicycle and bag was at Reliance sluice," she explained.
Kuppamah said at around 8am GuySuCo officially informed her that her husband was missing and a search party was looking for him.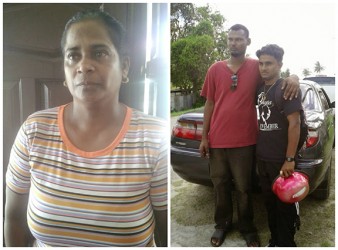 The grieving widow recalled that on Sunday, at around 8pm, her husband left for work as normal. She noted that her husband was a quiet person who did not drink alcohol or smoke. "He was a very quiet man. You have to listen carefully to what he was saying" she said.
Co-workers at the man's work site stated that they had not seen Madramootoo and discovered his belongings at the Reliance pit stop. In order for him to reach to the work site, he would have to take a boat from the Reliance Sluice. Following a missing person report, a search was launched on Monday afternoon but was unsuccessful. Another search was carried out yesterday and Madramootoo was found washed up on the muddy banks of the Canje Creek.
Lakeram Madramootoo, the son of the dead man, expressed disappointment with the late arrival of the police after his father's body was found. He explained the police came approximately two hours after the discovery and took the body away from where he was found. He opined that if lawmen had arrived early, his father's body could have been saved and an autopsy examination could have been conducted.
While Kuppamah said that she was clueless about her husband's death, her son believes that foul play may have been involved. Asked whether it was possible that the man may have gone for a swim, his wife said it was hard to believe since her husband worked the night shift. She pointed out that he knew how to swim but she doubted that he would take a swim late at night.
A police source said statements were taken from persons but nothing of interest surfaced. However, investigations are continuing.
Comments

Eighteen prisoners at the Lusignan penitentiary were being treated for injuries last night following a reported attempt to kill a fellow inmate during which warders fired shots.

A 12-year-old girl is now dead, while her brother narrowly escaped a similar fate yesterday after their aunt's La Bonne Intention (LBI), East Coast Demerara house, which they were under, collapsed on them.

Guyana has officially applied for membership in the European Union's Extractive Industries Transparency Initiative (EITI) which will help in tracking revenues from oil and other natural resources.

State Minister Joseph Harmon yesterday reiterated that President David Granger's directive to the Police Service Commission to halt its consideration of promotions was intended to prevent damage to the image of the Guyana Police Force but he could not say under what authority the head of state acted.

While saying that a strong security presence along the country's borders is the first line of defence against transnational criminal syndicates, President David Granger yesterday called for cooperation by all actors to see the security of Region Nine as a priority.