Government-appointed Town Clerk Carol Sooba has said that the hiring of Shawn Hinds as her bodyguard is her "personal choice" and it is not to suggest that "I do not have confidence in the city constabulary."
Last week, Georgetown Mayor Hamilton Green in a missive to Acting Police Commissioner Seelall Persaud on Hinds' presence at City Hall as Sooba's bodyguard, said that although Sooba has said that she has no confidence in the City Constabulary, she has used the constables as guards at her residence on a 24-hour basis.
He also said her "driver/security" is an armed inspector of the City Constabulary and that a Constable is posted outside her office at City Hall all day.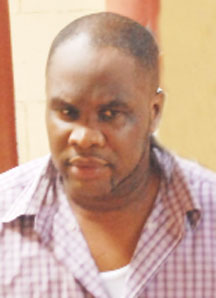 "It is therefore difficult to find any justification for Mr. Hinds, if it is true, having any business in the precincts at City Hall," Green said.
At a press conference at City Hall on Friday, Sooba became testy with reporters when asked about Hinds' appointment as her personal bodyguard arguing that she has full confidence in the constabulary. "I have full confidence in the city constabulary.
That is a matter of my choice to hire Shawn Hinds," she said.
Recently, Hinds' presence at City Hall has raised many eyebrows and Green had said that several councillors and members of the public are "uneasy of these characters" moving in and about City Hall freely.
Sooba also rejected claims made by Deputy Mayor Pat Chase-Green that "people coming to pay tax and asking if Shawn Hinds in the building and if he is, they are not coming in to pay the tax."
"Decent minding citizens come and pay their taxes," Sooba said.
Comments
Secretary-General of the Caribbean Community (CARICOM) Ambassador Irwin LaRocque has urged Sweden to use its position in two major international organisations to highlight the "unfair labelling" of some of the Community's Member States as "non-cooperative tax jurisdictions".

First Lady, Sandra Granger, yesterday, met with members of the Covenant Home for Children, a United States-based charity, which is registered in California and focuses on the homeless, runaway, abandoned, abused, trafficked, or exploited youth of Guyana.

Allen Chastanet   CASTRIES, St. Lucia, (Reuters) – The prime minister of the small Caribbean country of St.
Dear Editor, Kindly publish my response, as follows, with regard to an anonymous letter published by the Guyana Chronicle on Wednesday, August 16, 2017, under the caption 'Will the Auditor General investigate the deputy chief elections officer?' Editor, this letter is the second deliberate attempt aimed at besmirching my integrity, obviously with clandestine objectives. 

President David Granger, today, announced that Minister within the Ministry of Communities,  Dawn Hastings-Williams will assume the portfolio of Minister of Public Affairs in the Ministry of the Presidency with effect from September 1, 2017.