By Mario Joseph
Toevlugt/Patentia Neighbour-hood Democratic Council (NDC) is a classic example of the decay of the local government system – its budget for this year is still to be approved and this has curtailed services to the community for the last six months.
The West Bank NDC's jurisdiction is north-bounded by a trench between Toevlugt and Nismes, south-bounded by a demarcation between Patentia and Vriesland, west- bounded by a demarcation between 8 villages and Cottage and Middlesex and east- bounded by the Demerara River.
The council is responsible for seven schools, one playground, one health centre, one com-munity centre and one burial ground. Its 2014 Budget was set to expend some 25M, with 19M in revenue.  The body is governed by 17 of the original councillors elected since 1994 while the 18th has migrated. The Patentia Action Group, a community-based group controls 10 of the seats with PPP councillors controlling the other eight. A total of eight employees work for the council with two being administrative and two being security. They are in possession of one incapacitated excavator in need of extensive repairs.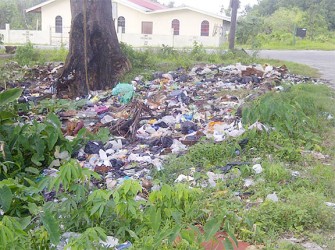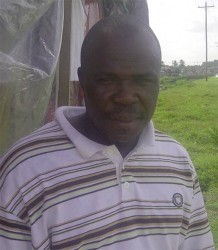 Chairman of the NDC, Roy Bennett, has been in the post for the past 5 to 6 years, ever since his predecessor, Andy Jacobs, former party leader, migrated. Bennett said that the council is facing some serious challenges, with a non-approved budget being the most prominent. This budget he said had been submitted to the Ministry of Local Government in November 2013 and was still unapproved up to June 4th 2014. Inadequate funds to address the needs of the communities due to an out-dated  rates system was a second major problem the council faced. This he explained to be rooted in the calculation of rates and taxes on properties valued since 1972 before Guyana's currency was significantly devalued in the late 1980s. For example, a property valued in 1972 at $300 for the land and $2,800 for the building would translate to some 6M today. Rates and taxes are currently calculated at 65% of the overall value, something that would have to be reduced to some 1% or so, once the new valuation become effective, Bennett said. He further explained that even at 1% the council would see a substantial increase in their funding and then be able to fulfil its mandate to the community once there was a revaluing of properties.
This request for a new valuation, he said has fallen on deaf ears for the past 15 years and is not only their problem but that of the entire country.  "As it stands, we cannot do basic things like collect people's garbage and clean their drains because we simply cannot afford it. The worst part of it is that since the year started, and it is half way through, no work has been done since our budget estimate is unapproved".
The council lacks an effective legal framework to address persons in breach of simple things like violating building codes, building structures on the government reserve and something as simple as littering, Bennett lamented. This is serious, he said, as it debilitates the ability of the council to function. Another action that hinders the effectiveness of the council is the bureaucracy of the Local Government Ministry which has forced themselves into the every-day affairs of the council. "Every bit of expenditure has to be approved by the Minister and this takes forever. Something that should take days isn't approved for months. They usurped the authority of the Regional Democratic Council (RDC) with whom we had a better working relationship with since 2012 and we've just been suffering since." Bennett stated that the govern-ment has even infiltrated  the council, exerting the control over the employees because they control their salaries. Frustrated, Bennett said, "If I tell the overseer to do something and the Minister says another, she will definitely follow the instructions of the Minister".
Not interference, just regulation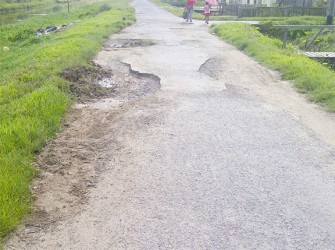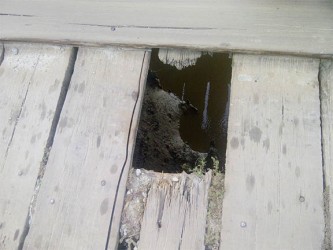 Asked to respond to the allegations made by the NDC, Minister in the Ministry of Local Government Minister of Local Government, Norman Whittaker told Stabroek News  that there are no NDC budgets that have not been approved. He further went on to say that if an NDC had submitted its  budget late and was in need of "corrective" measures and he suspected the Toevlugt/Patentia NDC to have been one of those, then it would have been delayed, but as at June 4th, none are outstanding. When asked about the outdated valuation of property that reduces the fair amount of rates and taxes due to the council, Whittaker said that there is currently a programme being formulated to address the issue. He further explained that a systematic process of training and certifying persons to conduct and issue valuations will be initiated. This, he said, will result in two persons being attached to the various NDCs who will be paid per valuation by the NDC. This programme,  he said, will commence as soon as the  sum of $100M in funding is secured. In the meantime, he said the NDC is not restricted from requesting valuations for new buildings, extension of buildings and conversion of properties from residential to commercial but that they may be limited in this regard because they would have to pay for those valuations themselves.
The allegations of stifling the council and usurping its authority were put to Whittaker who said that the Ministry is doing no such thing. The actions that the ministry have taken are to ensure accountability for  taxpayers' money, he said. "These people just can't expend public funds just like that. It needs to be open and transparent, adhering to strict legislation and regulations", Whittaker contended, adding that the procurement legislation is in place to ensure accountability of expenditure and "what we're doing is not interference, just regulation".
Bennett said that the council needs four things: Firstly, the legislation needs to be upgraded and should provide them with greater autonomy; secondly, the reporting structure for the NDC needs to  revert back to the  Regional Democratic Council to eliminate the bureaucracy; thirdly,  the properties have to be revalued and the rates and taxes calculation formula changed to boost revenue and finally the government should donate machinery and equipment to facilitate the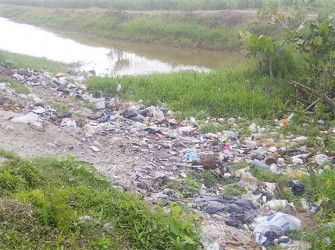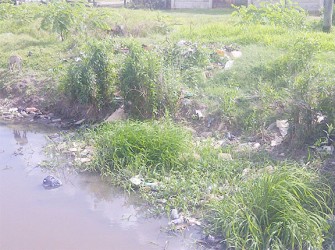 council's work the same way they did for the Interim Management Com-mittees (IMCs) which they have installed in other neighbourhood democratic councils.
 Great challenge
Giving  his personal opinion on the state of the council and Local Government Elections (LGE), Bennett had this to say, "Working with the council for the past 20 years has been a great challenge. The Government has continuously taken measures to make it progressively more difficult because they would rather have people in place that bend to the will of their authority." As regards LGE, he said, "I feel that blatantly refusing to host LGE is a slap in the face of the Guyanese people. Since 1992, the PPP/C have touted this "return to democracy", but local govern-ment is a pillar to this democracy. If they don't allow the elections to be exercised, then the pillar will fall. In fact, the pillar of democracy, after being withheld for 20 years, has fallen. This is evidenced by the breakdown of most of the NDCs and the poor state of our communities."
Councillor, Yvonne Souvenir sat in on the interview and while she declined to be   interviewed, she said she supported everything that her chairman had said.
Overseer,  Glennis Glasgow, who has worked with the council for 25 years, starting as a typist/clerk and an assistant rates collector, has been in the position for the past two years. Glasgow, said that the council is responsible for maintaining the village office, patching roads, repairing footpath bridges, bus sheds, cleaning of drains and maintenance of the burial ground but no garbage collection.
Challenges faced by the council, according to her, are primarily funding constraints and Ministerial bureaucracy.  She said that there are constant delays of several months from the initial submission of estimates and that this does not only apply to that of works costing over $99,000 but any work that the council seeks to do. This, she highlighted with an example of the non-functioning excavator machine in the compound of the NDC, for which she submitted an estimate for repairs  at a cost of $1M five months ago. This delay, she said, is hindering the capacity of the council to function since it has absolutely no machines or equipment like the IMCs do.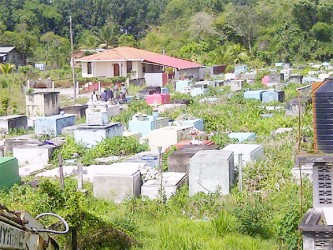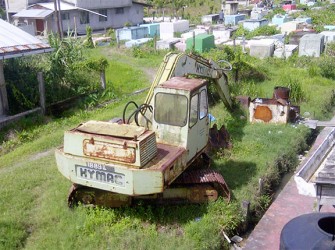 Another major challenge faced by the council is the huge garbage issue, admitting that the council just cannot facilitate this function because of the lack of a compactor truck to collect the garbage and the fact that there is no waste disposal site allocated to the extensive West Bank area. Residents have been directed to use the Pooran Brothers solid waste disposal services and have been doing so as far back as she can remember. The problem however is that residents and businesses utilize makeshift disposal sites at various locations throughout the communities with the worst of the lot at Good Intent. This happens despite the council's efforts to place signs that read "Do Not Dump here".
Persons constructing houses on the reserve lands pose  another difficulty that the council faces with no support from Central Government to enforce notices to move, delivered to the offenders. "We need the Government's help in doing these things, which they do not give. When we are unable to do something and more and more people complain, we are the ones who get the blame", she said. Glasgow went on to lament that the Ministry of Local Government has forced themselves into every aspect of the council's affairs and yet refuses to provide sufficient support. She even went on to stress that requests and calls would go unanswered, something she finds disrespectful. When asked about Local Government Elections, Glasgow said she didn't want to get into anything political but is disappointed with the government's position to withhold the elections from the people for so long and that there needs to be change. She went on to say that things could have been better at the council but out of nothing comes nothing, referring to the lack of resources available to the council.
What the residents say
Shane Gulliver of Lot 113 Sideline Dam, Sisters Village said that the main problems faced by his community were garbage disposal, narrow streets with potholes, and some small bridges in desperate need of repairs, minor flooding and a health centre with a bat infestation. He said that the council is trying to do some work but that it lacks the resources. With regards to LGE, he said that he understands it well because the Guyana Elections Commission had done some training last year which he was a part of, as well as the Ministry of Local Government. His opinion was that Guyana does not have democracy because in a democratic state, you would not be able to get away with not hosting an election for 20 years. When asked, Gilbert said that he would vote at LGE but would not want to be a councillor because all you get is the title, but no actual authority to help your communities. This, he explained, was due to what he perceived as the Ministry of Local Government's micro management of all of the council's activities.
Tichina Hinds, a 17 year old who lives at 205 Singh Street, Sisters Village said that her street is terrible, there are no lights and the area is full of thieves. The crime situation is very bad, she said, exclaiming that as soon as it gets dark, you have to lock up your house. She said that the council is supposed to collect her family's garbage but instead they have to pay Pooran Brothers. Labelling the NDC as an inefficient institution, she admitted to having little understanding of their functioning. When asked about LGE, she asked for an explanation of what it meant and after being informed, said that it's a bad situation for Guyana to not have had such an important event take place for 20 years.
Trenches and empty lots
Lifelong resident of Patentia Housing scheme, Anthony Thomas said that the garbage situation is becoming overbearing and unhealthy. He said that people use the trenches and empty lots to dump their refuse and it is left there for a long time which is very dangerous to the residents' health. The bridge to enter his housing scheme is another problem that he faces as a motor cyclist. He expressed his fear of riding into it at night or into a widening hole on it.  When asked about his knowledge of the NDC he said he knows somewhat of their supposed responsibilities which they are yet to do. When asked about LGE, Thomas said that he has lived for 41 years and has never heard of LGE. After it was explained to him he called the situation a complete disgrace calling for the elections to happen immediately.
Simeon Springer of 11 Good Intent said he has been a lifelong resident of the community and that during his 45 years of life he has never seen such a bad garbage situation. He said that the community needs to do something about the littering problem because it's the residents who are responsible for the problem. The only other problem he said he faces is the flooding of his street after heavy rainfall. This, he said, is due to the shallow drains which need a deep and thorough digging. Being a backdam worker he said he really does not know anything about the NDC or LGE but asked to be enlightened. After having the topics explained to him, he said that the residents need to get involved and that he would definitely support the call for LGE.
Shaban Abdullah, resident of Lot 168 10th Street Belle-Vue, said that his major issue is with the Good Intent community where his farm is located. Because of the constant flooding, he said that he loses plants and livestock and it has to stop. He too was upset about the garbage situation citing the health hazards. He possessed some knowledge of the work of the NDC and LGE which he said he learnt from watching the news. He said that with regards to the NDC, they need to employ more workers and he believes both the political opposition as well as the government are to be blamed for their current state because they are the ones who have authorized the people to remain in office for all these 20 years.
Comments

Jerry Lewis   LOS ANGELES,  (Reuters) – Jerry Lewis, the high prince of low-brow comedy on stage and in movies as well as a fund-raising powerhouse with his annual Labor Day telethon, died today of "natural causes" at the age of 91, his family said.

Beharry Automotive Limited (BAL) , the authorised distributor for Toyota parts and lubricants, says that an abundance  of imitation Toyota parts and lubricants have entered the market with the Toyota logo and trademark.

Grace Mugabe   HARARE,  (Reuters) – Zimbabwe's first lady Grace Mugabe returned from South Africa early today, state media reported, after a 20-year-old model accused her of assault in an upmarket Johannesburg hotel room.

Michael Bhopaul, 16, doesn't know if he is this year's best performer at    the Caribbean Secondary Examination Certificate (CSEC) Examinations, but with preliminary results showing that he has obtained passes in 25 subjects, he will be hard to top.

Inmates at the Lusignan Prison turned over 33 improvised weapons yesterday morning to prison authorities, who say that they also apologised to the prison staff for the unrest at the facility on Friday night.