A jury was empanelled yesterday before Justice William Ramlal to preside over the trial of Ramsohai Boodhoo, who is accused of killing his friend over a drug deal gone wrong.
Boodhoo, also called "Baigie," is accused of killing Eon Daniels after he blamed him for shortchanging him in a drug transaction at Herstelling, East Bank Demerara, in 2011.
Daniels, 34, of Last Street, Herstelling, East Bank Demerara, was stabbed in the chest and the wound had reportedly punctured his lungs. He was pronounced dead at the Diamond Diagnostic Centre.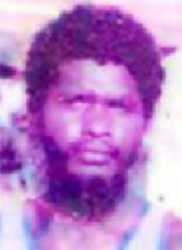 The attack allegedly occurred after the accused sent Daniels to buy drugs and then accused him of shortchanging him.
He is being represented by Peter Hugh while Dhanika Singh is presenting the state's case. The trial is expected to begin today.
Comments

Vamanadev Hiralall, of the privately-run Saraswati Vidya Niketan (SVN), is the country's top performer at this year's Caribbean Advanced Proficiency Examinations (CAPE) after achieving an accumulated 13 grade one and 3 grade two passes.

Twenty-six students in the top one percent of the 12,684 who sat this year's Caribbean Secondary Education Certification (CSEC) examinations earned 12 or more Grade I passes, with half of them, including the top performer, coming from Queen's College (QC).

On the second day of the Commission of Inquiry (CoI) into African ancestral lands and other matters, four witnesses made cases for the return of lands they feel they are rightly entitled to, which were either taken by the state or occupied by private owners.

Shelton George, the man charged with both murdering a waitress at a Chinese restaurant and the attempted murder of a magistrate, was found dead in his cell at the Lusignan Prison yesterday morning.

The Chairman of the Triumph Neighbourhood Democratic Council (NDC) yesterday instructed workers employed on a private site, reportedly intended to build a first-floor pool, to cease operations, just two days after residents called on authorities to halt its construction.