The road leading to businesses in the New Eccles Industrial Site, including Beesons Windows and Doors, Crown Mining, John Deere Machinery and a new publishing company, is in total disrepair.
Owner of Beesons Windows and Doors, Mohamed Beepat, complained about the road in a letter recently published in Stabroek News, titled, "The road to Eccles Industrial Site is a trench."
During a visit by Stabroek News to the location, the loam and sand road was very difficult to even walk through. The Stabroek News vehicle got just about 25 metres into the road when it got stuck, requiring the help of a bobcat to pull it out.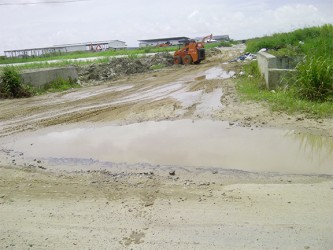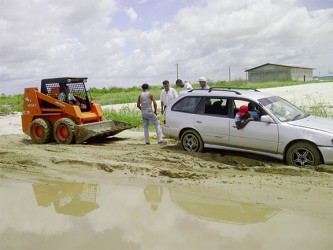 Beepat said that he and the other proprietors are losing business because customers simply don't want to drive or walk in to their establishments.
In his letter, Beepat who is a re-migrant, said that he answered the President of Guyana's call to return home but is now sorely disappointed with what he has returned to.
He said that the road was cheaply built just over a year ago and cannot stand up to any rain. He said he has written Minister of Housing Irfaan Ali and the Central Housing and Planning Authority about the deterioration of the road but nothing happened. He suggested that he may have to close his business if immediate action isn't taken.
However, after being visited by Stabroek News, Beepat was reluctant to provide further information on the matter.
The other proprietors who occupied the street were sought for a comment but were unavailable, according to the workers on site.
Passers-by driving along the main road, which was severely deteriorated at intervals, asked Stabroek News if anything was going to be done about the road after they noticed the reporter taking photographs of the dilapidated road.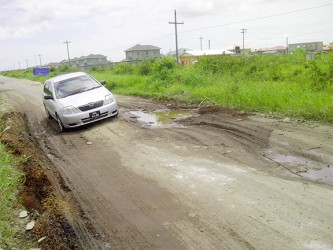 Comments

A jet plane flies by the total solar eclipse in Guernsey, Wyoming U.S.

Superstar opener Chris Gayle … returns to the West Indies side for the first time in over two years.

The Church Street hotel and casino Hotelier Clifton Bacchus today filed a $2 billion lawsuit against the state-owned Guyana Chronicle newspaper following its publication of two recent articles which he has described as "highly defamatory." Guyana National Newspapers Limited, which is the publisher of the Guyana Chronicle, and the editor of the Guyana Chronicle were listed as the defendants in the suit, which was filed by a team of lawyers headed by former Attorney-General Anil Nandlall.

LONDON, (Reuters) – The gradual decline of West Indian cricket is hardly a new phenomenon but the latest capitulation of a once-dominant test match power has brought genuine expressions of sadness throughout the sport.

Eleven residents of the juvenile correctional centre at Onderneeming on the Essequibo Coast were apprehended between yesterday and this morning.