Amid a number of fatal road accidents including one on Wednesday that left three persons dead, main opposition coalition A Partnership for National Unity (APNU) yesterday repeated a call for President Donald Ramotar to revoke the appointment of Home Affairs Minister Clement Rohee.
"The deaths of three children from one family in multiple road accidents on the Corentyne coast last Wednesday shocked the nation. This tragedy should be a warning to the People's Progressive Party, the Ministry of Home Affairs and the Guyana Police Force that the road traffic situation is out of control," Leader of the Party David Granger told a news conference yesterday.
Last year, the party had made a similar call in the wake of a spate of armed robberies.
A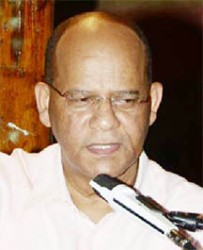 ccording to Granger, the biggest contributory factors to fatalities have been the lack of effective ministerial direction, lax law-enforcement and dangerous driving habits.
He added that during Rohee's tenure in office fatal accidents along with other forms of lawlessness have been occurring on a daily basis. "There have been 57 deaths for 2014 already. There were 569 deaths over the five-year period, 2009-2013," Granger stated.
He said the National Assembly, in a marathon debate on July 30, 2012, passed a resolution of "no-confidence' in Rohee and in his ability to exercise responsibility for human safety as Minister of Home Affairs. "The resolution called on the President Donald Ramotar to revoke Mr Rohee's appointment. This was not done."
Also on the APNU panel yesterday was former commissioner of police and APNU Shadow Minister of Home Affairs Winston Felix, who said that the three breathalyser kits available in Guyana is insufficient, let alone for Berbice. "There are only three breathalyser kits. Still three since last year until now. We know that speed guns are not far off. There is need for resources," he said.
Felix also pointed to the number of ranks leaving the force on a daily basis. "There is the human resource that the minister is not paying attention to… Why do we have such a high loss rate? As you train you lose, the volume of ranks you should have to police the roads keep reducing… He is wasting our time, he just keeps pointing fingers and nothing is done," he said.
According to the former commissioner, since Rohee's appointment as minister in 2006 there has been little policy formulation and implementation with respect to traffic issues.
"All we got is excuses…He gave an explanation 'me don't burn hands I does give out things.' That is a wimpy statement coming from a minister. He doesn't understand the context in which he is operating as… Minister of Home Affairs and that he is responsible for everything that falls [under] and takes place within his ministry," Felix said.
Questioned as to what policies he would have implemented if he was the present Minister of Home Affairs, Felix outlined that discipline and training were two of the policies needed the most in the force. "…They [government] don't listen to the opposition. They have the Disciplined Forces Com-mission Report but what has been done with it? It is like throwing water on ducks' backs," Felix stated.
Felix also called for the methods of operation to be changed. "…On the Corentyne by night all sorts of lawlessness take place and as such in various parts of the country the police need to adjust with safety in mind. Not just throwing two men at a corner, cause they gon get knock down, vehicles gone pick them off."
Meanwhile, asked why the party's stance on Rohee seems to have simmered over time, Granger said, "our stance is not changed. Anytime any major measure concerning the Ministry of Home Affairs is brought to the National Assembly it is brought by the Attorney General. That is how they come to be passed. They attempted to get Mr Rohee to bring these measures and they were not approved."
He added that, "Mr. Rohee is still very much a non-person in the eyes of the APNU… we were obliged to pass the budget because that was a matter of national security, but we don't have confidence in Mr Rohee and that position has not changed in the last two years. You may not think our position is hard but it is very hard, he can feel it."
Comments
President David Granger will not be attending the Twenty-Ninth Inter-sessional Meeting of The Conference of Heads of Government of the Caribbean Community (CARICOM) in Haiti beginning on Monday.

Mashramani celebrations ground to halt for several families yesterday afternoon, when approximately 30 persons lost their homes after a fire of unknown origin ripped through three Victoria Road, Plaisance properties, including an apartment building.

Minister of State Joseph Harmon says that the US$3 million settlement offer made by Hong Kong Golden Telecom Limited (HKGT) on the outstanding balance for its purchase of government shares in the Guyana Telephone and Telegraph Company (GTT) is being actively considered, but the government's goal is to recover the entire US$5 million that is owed.

Opposition Leader Bharrat Jagdeo on Thursday criticised government and Minister of Finance Winston Jordan on the heels of the announced plan to borrow cash from local banks to reopen two sugar estates and to fund critical current and capital Guyana Sugar Corporation (GuySuCo) programmes.
The private sector is upbeat about the nearly three dozen-odd opportunities recently advertised in the oil and gas sector as it goes some way towards meeting local content needs, according to Private Sector Commission (PSC) Chairman Eddie Boyer.