An autopsy has revealed that Andrew Anthony Griffith, the gold miner who died at Aranka on Tuesday, died as a result of drowning.
Relatives said that they have accepted the autopsy report despite unanswered questions surrounding the death of the 21-year-old man. Griffith, of Lot 24 Victoria, East Coast Demerara was attempting to cross a creek in the area when he met his demise, relatives said.
The man's sister Takelia McAlmont told Stabroek News that she is concernedover the conflicting accounts as regards the reason her brother swam across the creek. The grieving woman said that the first story she heard was that her brother and two other men decided to leave their camp for the nearest police station to file a complaint against their boss known as "Red man." She said that they accused him of refusing to pay them. She further stated that the men also informed the family that "Red man" was shooting at them when they decided to leave the camp.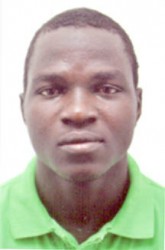 The second account, according to Mc Almont, was that Griffith and the other men after being refused payment, swam across the creek to file a complaint to the police and in the middle of the creek, Griffith was seen going under the water by the others who were already across. She added that one of the men said Griffith disappeared when he sank for the third time.
Additionally, she said, the last contact the family had with Griffith was on June 6. They are now focused on burying him, she added.
Connie Mc Almont, Griffith's mother, told Stabroek News that she has "left everything in God's hands." The devastated mother said that she has accepted the autopsy which ruled that her son died as a result of drowning. Griffith will be laid to rest today at 2pm at the Ann's Grove, ECD cemetery.
Comments

Eleven residents of the juvenile correctional centre at Onderneeming on the Essequibo Coast were apprehended between yesterday and this morning.

With growing pressure on the government over the overcrowding of jails, MP Michael Carrington is confident that the parliamentary bill in his name to ease penalties on marijuana use will gain the support of the governing APNU+AFC benches of which he is a member.
The National Toshaos Council (NTC) is to begin its conference today and high on the agenda will likely be ongoing concerns about the lands commission of inquiry (CoI) which the government has convened.
A Trinidad-based medical products company has secured four contracts worth $135.4m. According to the Ministry of the Presidency (MotP), Cabinet at its meeting on August 15,2017 noted the award of 16 multi-million-dollar contracts.

The police on Friday evening discovered an AK-47 assault rifle and a quantity of ammunition in a haversack at Kingston, Georgetown.