Police have confirmed that a third person was held for questioning in connection with the death of 17-year-old taxi driver Dhanraj Latchman.
Police yesterday said too, that the two suspects held confessed to strangling him with a severed seat belt on Wednesday, at Parika Backdam.
According to 'D' Division Commander Senior Superintendent Ian Amsterdam, the 17-year-old's body was discovered after 6 pm when police were led to the crime scene by the two suspects. He said the body was in the early stages of decomposition and covered in slush.
When this newspaper enquired about police plans to ensure the suspects are kept in custody and investigations proceed uninterrupted, Amsterdam said, "We are in the process of applying for an extension" from the High Court.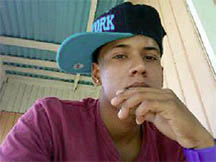 Latchman, of lot 115 Lugisnan, East Coast Demerara, went missing on Tuesday, after he had failed to return home from a hire to Parika. He had been contracted by a 17-year-old and another man in his 20s, from the community.
Latchman's mother, Taramattie Daby, had voiced her suspicion to this newspaper, hours before her son's body was discovered. "I feel they know what happened to my son," Daby had opined, indicating that the two suspects were giving conflicting accounts of what transpired.
Additionally Daby had told this publication that when the police had approached him the 17-year-old started to cry. She added that an older male was seen urging the teenager to maintain that he knew nothing.
Following the discovery of the car Latchman had been driving, his relatives said a long knife was found under a seat and the two suspects were arrested and interrogated by the police.
Investigations are still underway.
Comments
British High Commissioner to Guyana Greg  Quinn  yesterday said that it was hoped that more would have been done to push the constitutional reform process forward.

A West Coast Berbice man died after he reportedly set his one-storey house ablaze sometime around 11.20 am yesterday.

A Yarrowkabra miner was yesterday charged with the murder of a co-worker, whom he allegedly beat to death during an alcohol-fuelled clash last Saturday at a dredge site in the Potaro Backdam.
A court action was yesterday filed challenging a directive issued in the name of President David Granger to the Police Service Commission (PSC) for a hold to be placed on planned promotions this year, Attorney Rajendra Jaigobin, who operates from the Chambers of former Attorney General Anil Nandlall, is seeking the following declarations by the court: "a declaration that the Police Service Commission, a Commission established by the Constitution of the Cooperative Republic of Guyana, in the exercise of its functions shall not be subject to the direction or control of any other person or authority;
UK security expert Lt Col (rtd) Russell Combe, who is working closely with the Guyana government to resuscitate the Security Sector Reform Action Plan (SSRAP), will be broadening his mandate to assess the country's prison situation.