"We cannot prevent or stop a natural disaster, but we can reduce its impact on our lives – and we can only do so through preparation".
This was the message of Guyana's Civil Defence Commission Director General, Colonel Chabilall Ramsarup, to Berbicians at the official launching on June 10th of the National Public Education and Information Campaign on Disaster Risk Manage-ment.
The forum held at the Ministry of Culture, Youth and Sport Building in Vryman's Erven, New Amsterdam, saw the Civil Defence Commission (CDC) kick-starting a sensitization drive aimed at "preparing communities to take responsibility for their own safety" in the event of a natural disaster.
Targeting the general public with emphasis on school children and youths, the objective of the National Information and Education Campaign is two-fold. Firstly, it is aimed at providing information to induce behavioural changes among Guyanese so as to enable them to build resilience in the face of natural disasters. And secondly, it is focused on facilitating an understanding of the global phenomenon of climate change and what effects it will have on the country.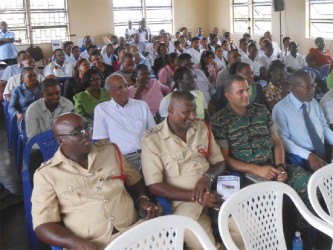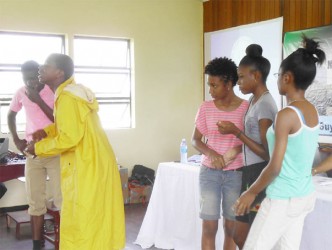 The public campaign was launched under the theme 'Guyana Our Country…Our Responsi-bility'. "We need to understand our responsibility and take them seriously. It is hoped that by engaging the children, that they can be a catalyst for change to ensure that the older folks do the right thing", Ramsarup said as he reflected on the theme. He noted that "with global warming comes climate change – rising sea levels which poses a serious risk, combined with the unpredictability of our weather pattern is worrying". Moreover, the "country's geography and the concentration of our demographics are forcing us to take our responsibility seriously. If we want to prevent and reduce the risk of disasters, we must build a resilient country".
As part of the launching of the National Public Education and Information Campaign for Disaster Risk Management, two short infomercials for viewing audiences were unveiled, as well as four short commercials design-ed for all audiences (which is in audio format and will be featured on the radio), and a documentary on Guyana's Geology. Also, the CDC will commence shortly, the training of people with in the schools, "so students themselves will know what to do if something happens".
Additionally, the CDC has already begun to circulate newsletters and plans to launch several competitions (including Essay Writing and Poster Designing, Debating, Drama and Skits) in September of 2014 for all educational institutions and interested groups/organizations. The competitions which will be held annually are intended to create a Guyanese population capable of "taking a calm proactive approach to their role in the planning and preparations for a natural disaster".
It is anticipated that the campaign will merit new and sustainable ideas, continuously foster creative thought in the learning process, and induce important life skills. "They are all designed to encourage formal and informal methodologies that include learning by observation and research".
Presently, the CDC is working with the regional authorities and communities to develop their individual plans. So far the commission has worked with Regions 2, 3, 4, 5, 6, and 10 and 27 communities. "The community level is most important because that is where we call the golden 24 hours. A response from outsiders take time, but if you know exactly what you have to do to save yourself, to save your family, to save your friends and to save your community then you will be better prepared. So by the time help comes, you would have already saved yourself".
Present at the launching were Region 5 Chairman Bindrabhan Bisnauth, Region 6 Chairman David Armogan, Region 6 Education Officer Volika Jaikishun, CDC Project Coordinator Michelle Klass, CDC Assistant Operations and Training Officer Captain Sean Welcome, Director of Vector Control Services MoH Dr. Reyaud Rahman, members of the Para Military forces and other regional officials and secondary school students from both Regions 5 and 6.
Comments

-number of redundant workers at 4,763 The National Assembly yesterday approved nearly $2 billion to facilitate full severance by the end of January for a little more than 1,600 of the 4,763 sugar workers that have been made redundant.

Following criticism over government's handling of the restructuring of the Guyana Sugar Corporation (GuySuCo), President David Granger and members of his Cabinet yesterday met with the leadership of the Guyana Agricultural and General Workers' Union (GAWU) and the National Association of Agricultural, Commercial and Industrial Employees (NAACIE) to discuss the future of the sugar industry.
An 18-year-old woman succumbed on Thursday evening, one day after she was allegedly beaten by her common-law husband during an argument at Baramita, in Region One (Barima-Waini).
In his absence, Ganesh Chaitram, who was charged with raping a 10-year-old girl in 2016, was yesterday sentenced to life in prison after a jury found him guilty of the crime.

City councillor Jameel Rasul says he will shortly be resigning his seat after being berated by his group, Team Benschop for going beyond the agreed six-month stint and voting in favour of the controversial parking meters deal.