A Father's Day celebration ended tragically for a 66-year-old labourer of Armadale, West Coast Berbice, after he fell into a drain and reportedly drowned.
Eddie Evans who was pulled out of the drain around 3 pm sustained wounds to his forehead and to the back of his head.
His son, Kishore Evans said his father apparently hit his head on the koker when he fell. He told Stabroek News that a cousin had seen his father riding his bicycle along the dam.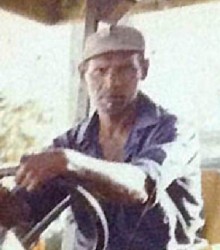 Shortly after the cousin saw that the bicycle had fallen close to the drain but did not see Evans. He decided to search and then made the discovery.
Kishore recalled that he was riding out of the dam when his cousin signalled to him to go towards the scene. He then told him, "Bai come see wah happen. Like yuh old man dead."
Kishore said he tried to pump his father's stomach but there was no response.
He said father appeared to be dead so he went to the Fort Wellington Police Station to summon the police but they were on patrol.
They arrived about one hour later and took the body to Fort Wellington Hospital where Evans was pronounced dead on arrival, and then to the mortuary.
Evans was celebrating Father's Day and was said to be on his way to purchase more alcohol when tragedy struck.
Comments
Though the life of the Police Service Commission (PSC) will come to an end in a few weeks, Chairman Omesh Satyanand has said that it will continue to comply with the president's directive to halt the consideration of promotions.
The Region Seven administration has committed to working with residents of Jawalla, in the Upper Mazaruni to restore a sense of normalcy following last Friday's storm which damaged dozens of houses.

A training manager attached to Beharry Restaurant Holdings was last night robbed by gunmen on her way home.

President David Granger on Monday evening commissioned three new 35-seater buses, which will serve schoolchildren in the north and south areas of Georgetown under the 'Boats, Buses, Bicycles plus Breakfast and Books' or Five 'Bs' programme.
A 94-year-old pensioner was yesterday charged with forgery. It is alleged that Fritz Rupert Lewis conspired with persons and forged a transport, No.