Roger Pilgrim who was on trial for the 2011 murder of his neighbour Shane Rowley was yesterday handed a 12-year sentence after being found guilty of the lesser count of manslaughter.
Pilgrim was accused of killing Rowley in January 2011 after a long-standing feud over the use of a passageway in 'A' Field Sophia.
He was on trial before a 12-member jury and Justice Dawn Gregory in the High Court.
In his caution statement, Pilgrim had admitted to stabbing Rowley twice. He said he was sleeping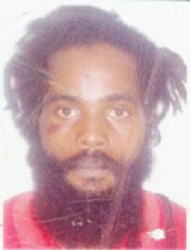 when his younger brother woke him up and told him to look through the window.
He said he saw Rowley, with a big chain in his hands, saying that nobody was allowed out of the yard.
He said Rowley and his brother Sherwin had a confrontation and he sent his mother out to see what was happening. He recalled seeing Rowley shove his mother and he immediately went out.
He said he was lashed across his back with the chain by Rowley, and he retaliated by picking up a knife that was close by.
Pilgrim stated that Rowley attacked him and he, in defence, knifed him in his neck and abdomen. He added that he disposed of the knife and left the yard.
Attorneys Natasha Backer and Mercedes Thompson presented the state's case, while Pilgrim was represented by attorney Hukumchand.
Comments

(Reuters) – England's top order fired in unison to give them a four-wicket win in the second one-day international against Australia on Friday as Aaron Finch's second straight hundred for the hosts could not prevent them falling 2-0 behind in the series.

Four weeks after passing a $267 billion budget for 2018, the National Assembly will debate a supplemental provision of $1.75 billion to meet a portion of the severance pay for around 4,000 sugar workers.

Autopsies performed on the bodies of Ambrose Baharally and Martin Godette, the Pomeroon farmers who were shot dead on Sunday, have found that both men died from gunshot injuries to the head.

The ground-breaking Whistleblower Protection Bill was passed in the National Assembly last evening without amendment, although there was opposition to the formulation of a commission to act as the governing body.

The preservation of land assets is essential to the creation of a green state and a good life for future generations, President David Granger said yesterday at the launch of a US$15M Sustainable Land Development and Management Project.