Magenta stamp sells for $1.95b
The British Guiana One-Cent Magenta postage stamp from 1856, the only one of its kind to still exist, sold for a record US$9.5 million ($1.95b) at Sotheby's yesterday in New York, Reuters reported.
The stunning price, which includes the buyer's premium, makes the one-inch by one-and-a-quarter-inch stamp (2.5 cm by 3.2 cm) printed in black on magenta paper the priciest stamp ever sold at auction, and the most valuable object by weight and size, Reuters reported the auction house as saying.
An anonymous telephone bidder purchased the stamp during the bidding in the packed auction.
"Every time it has come up for auction and sold, it has brought the highest price ever paid for a stamp," said David Redden, the worldwide chairman of books and manuscripts at Sotheby's, said according to Reuters.
"It has always been the world's most-famous stamp. It is one of these objects around which a huge mystique has grown up over the years," he said.
The previous record auction price for a single stamp was 2.87 million Swiss francs (about US$2.2 million). This figure was set in 1996 for the Treskilling Yellow, a Swedish stamp that is a misprint of an 1855 shilling stamp in the wrong colour.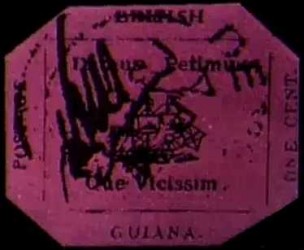 Reuters reported that the British Guiana stamp was sold by the estate of the late multimillionaire John du Pont, an heir to the du Pont chemical fortune, who died in prison in 2010 at the age of 72. Du Pont was serving a murder sentence for the shooting of David Schultz, a champion U.S. wrestler, in 1996.
Earlier this year, Reuters said that the Royal Philatelic Society of London re-authenticated the stamp, which du Pont, a keen stamp collector, acquired in 1980 for US$935,000. The stamp's authenticity was previously verified in 1935.
The British Guiana One-Cent Magenta is one of the world's first postage stamps. In 1856 in British Guiana the local postmaster asked a newspaper to print some stamps after supplies from Britain, where its stamps were produced, were delayed.
There are still a few four-cent stamps issued by British Guiana but this is the only one-cent. Until this year, the stamp had not been on public view since 1987, according to Sotheby's.
The stamp was found in 1873 by a 12-year-old schoolboy named L. Vernon Vaughan, who was living in British Guiana with his family. He found it among his family papers.
The Reuters report said that he kept it in his collection and later sold it to another collector in British Guiana. It was next seen in Britain in 1878 and was then bought by Count Philippe la Renotiere von Ferrary, a noted stamp collector.
The count's collection was donated to the postal museum in Berlin and was later confiscated by France as war reparation from Germany and sold in 1922, Reuters said.
It was sold several times before du Pont acquired it. Part of the proceeds of the sale will go to the Eurasian Pacific Wildlife Conservation Foundation, which du Pont backed, the report added.
Most Read This Week