Albouystown businesswoman died of head trauma, strangulation
- autopsy
An autopsy yesterday found that Sumintra Dinool, the elderly Albouystown businesswoman found dead in her home on Sunday, died of blunt trauma to the head and suffocation.
This is according to relatives of the woman, who said that Dinool, 65, had suffered a blow to the back of her head. However,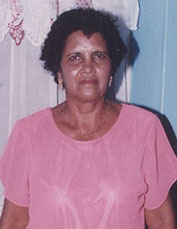 no object which might have caused the trauma was recovered at the scene of the crime. Relatives also believe that she was suffocated by a towel that had been stuffed into her mouth.
So far, there have been no arrests in the murder. A young man, who had been taken into custody, was subsequently released.
Dinool's body was discovered by one of her sons in their Sussex and Barr streets home sometime around 4am on Sunday. According to the man, he had opened the front door with his keys and had noticed nothing amiss until he went into his room and found it completely ransacked.
He made his way to her bedroom where he discovered her bound to her bed, her hands and feet tied with telephone cables. Her mouth was also gagged.
He strongly suspects that the person or persons involved entered through the backdoor, which had been open on his return.
Funeral arrangements are currently in progress, this newspaper was told.