An autopsy yesterday found that Sumintra Dinool, the elderly Albouystown businesswoman found dead in her home on Sunday, died of blunt trauma to the head and suffocation.
This is according to relatives of the woman, who said that Dinool, 65, had suffered a blow to the back of her head. However,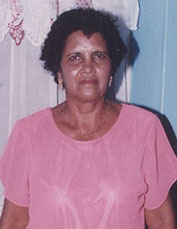 no object which might have caused the trauma was recovered at the scene of the crime. Relatives also believe that she was suffocated by a towel that had been stuffed into her mouth.
So far, there have been no arrests in the murder. A young man, who had been taken into custody, was subsequently released.
Dinool's body was discovered by one of her sons in their Sussex and Barr streets home sometime around 4am on Sunday. According to the man, he had opened the front door with his keys and had noticed nothing amiss until he went into his room and found it completely ransacked.
He made his way to her bedroom where he discovered her bound to her bed, her hands and feet tied with telephone cables. Her mouth was also gagged.
He strongly suspects that the person or persons involved entered through the backdoor, which had been open on his return.
Funeral arrangements are currently in progress, this newspaper was told.
Comments

Three persons, including the widow of one of the two Pomeroon farmers shot dead on Sunday, have been taken into custody and police say one of them led detectives to the location of an arms cache that allegedly belonged to one of the deceased.

The $3.5 billion contract for the Mazaruni Prison expansion, over which BK International Inc.

The family of Marlon Fredericks, the mentally-challenged vendor who was fatally shot by a member of the city constabulary on Sunday, has lodged a report at the Police Complaints Authority (PCA) after a police force report on his cause of death contradicted the autopsy report.
Police in 'B' Division are searching for six suspects in connection with the recent shooting at De Velde, in the Berbice River.

Grade Six students are sitting a series of mock examinations designed to prepare them for this year's National Grade Six Assessment (NGSA) scheduled to be held on the 28 and 29 of March.