Guyana Defence Force recruit Vernon Harding will be forced to live with only one functioning kidney after being accidentally shot at an army base.
Harding, 21, of Middle Road, La Penitence, is currently under medical supervision at Camp Ayanganna. Despite the fact that the bullet has not been removed from the man's body out of fear that he would be paralysed, Harding's mother Vanetta believes that he is doing "good" and that her son can still have a life with one kidney.
She said the medical attention provided by the army is sufficient but indicated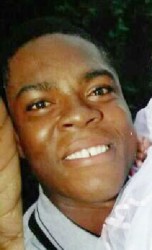 that her son has not received any offer of compensation for the injury.
Vanetta is also in the dark as to whether any action is being taken against Lieutenant Othneith Hope, who was reported to be responsible for her son's injuries.
Vernon, who was stationed at the Colonel John Clarke Military School at Tacama, was shot once to the arm but was injured to the abdomen as well after the bullet exited his arm and penetrated his abdomen, injuring one of his kidneys.
The recruit was said to be in a barrack-room with Hope when the Lieutenant accidentally discharged two rounds from his weapon.
According to a statement released by the army, the shooting occurred due to direct breach of the army policy governing the use of a weapon in the presence of recruits. The release further stated that the results of the investigation would be presented to a Board of Inquiry for the consideration of disciplinary action.
Comments

Vamanadev Hiralall, of the privately-run Saraswati Vidya Niketan (SVN), is the country's top performer at this year's Caribbean Advanced Proficiency Examinations (CAPE) after achieving an accumulated 13 grade one and 3 grade two passes.

Twenty-six students in the top one percent of the 12,684 who sat this year's Caribbean Secondary Education Certification (CSEC) examinations earned 12 or more Grade I passes, with half of them, including the top performer, coming from Queen's College (QC).

On the second day of the Commission of Inquiry (CoI) into African ancestral lands and other matters, four witnesses made cases for the return of lands they feel they are rightly entitled to, which were either taken by the state or occupied by private owners.

Shelton George, the man charged with both murdering a waitress at a Chinese restaurant and the attempted murder of a magistrate, was found dead in his cell at the Lusignan Prison yesterday morning.

The Chairman of the Triumph Neighbourhood Democratic Council (NDC) yesterday instructed workers employed on a private site, reportedly intended to build a first-floor pool, to cease operations, just two days after residents called on authorities to halt its construction.