Guyana Water Incorpora-ted (GWI) spokesman Timothy Austin yesterday said the intermittent bad weather has delayed the repair of roads that were excavated during the rehabilitation of the sewer system.
He added that in addition to constant rainfall and flooding, there was also a shortage of asphalt but the situation has since been remedied.
When Stabroek News visited various roadways in Georgetown yesterday, some repair works were underway while the laying of sewer pipes was still being done at other areas.
GWI has said that it is working along with the Ministry of Public Works to ensure that road repairs are executed in accordance with the requirements of the contract and high standards of quality.
The company has also indicated that it is executing full measures to ensure that the contractors execute the works in compliance with the technical and environmental re-quirements of the contract to ensure the highest quality of the finished infrastructure.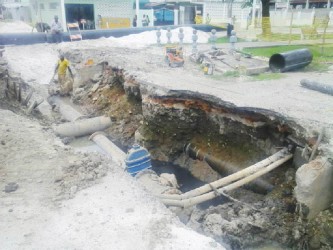 Comments

(ICC) Antigua and Barbuda, Guyana and St Lucia were today announced by the International Cricket Council (ICC) as the venues for the ICC Women's World Twenty20 2018, which will be staged from 9-24 November.

The sugar union, GAWU today said that more sugar workers are to be made redundant.

(Trinidad Guardian) Education Minister Anthony Garcia says the University of Trinidad and Tobago (UTT) is of the view that the organisation is "overstaffed and to run the university efficiently it will mean they have to trim fat." But former Tertiary Education Minister Fazal Karim is warning that the decision to retrench 287 staff members, will "compromise the quality of teaching and learning and administration at the university," and may impact its accreditation with the Accreditation Council of Trinidad and Tobago (ACTT).

In preparation for Guyana's emerging oil and gas sector and the bustling business usually synonymous with the industry, the Pegasus Hotel is expected to undergo a huge expansion which includes office and residential rental spaces.

Police Commissioner Seelall Persaud is to resume his duties today after spending approximately six months on leave, Public Security Minister Khemraj Ramjattan yesterday confirmed to Stabroek News.