The opposition on Thurs-day night used its parliamentary majority to pass a motion for an inquiry into the shooting of APNU supporters by police during a protest in the aftermath of the 2011 general elections.
The motion, brought by Opposition Leader David Granger, did not attract government support and Home Affairs Minister Clement Rohee said that instead of an inquiry, a parliamentary commission on public safety, to which he would answerable, should be set up.
With the passage of the motion, the National Assembly is calling upon President Donald Ramotar, in accordance with the Commission of Inquiry Act, to appoint a Commis-sion of Inquiry (CoI) to inquire into the injury of persons by the shooting and to make recommendations to prevent a recurrence.
However, previous opposition-led motions, urging the government to establish commissions of inquiry into a number of areas, have been ignored by the Ramotar administration during the current Parliament.
On December 6th 2011, police opened fire with rubber bullets on APNU supporters on Hadfield Street, leaving at least five persons injured. The coalition's supporters were at the time protesting the results of the general elections.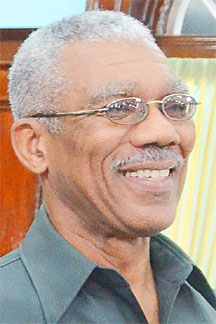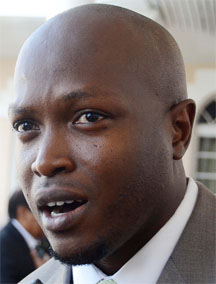 Addressing the National Assembly on Thursday, Granger stated that the act was a violent display by the Guyana Police Force and he opined that when the police are not answerable for their actions, acts, like the shooting, would continue. "Violence, like power, corrupts but it also plays with the mind. Policemen who are not afraid of being disciplined will shoot and shoot and shoot again," he said.
Granger added that when the public sees that police were not being called on to take responsibility for their actions, it can influence a retaliatory response to law enforcers. "No one should be surprised when citizens feel that they can shoot at the police without justification," he said.
He made historical reference to the consequences of protests where excessive force was used and the resulting casualties after persons reacted in kind.
APNU member James Bond, who was with the protestors and was shot multiple times with pellets, recalled being afraid when he saw the armed police and realised that excessive methods were going to be used. He said he then took off his glasses, made peace with God and was "prepared to die."
Bond admitted that the group of APNU supporters had been informed by the police that it would not be allowed to protest and was moving back to the coalition's headquarters when armed police arrived.
"We were making out way back… and lo and behold this 'Greenheart and Takatu' came into the plan. Who is Takatu?" He questioned.
At this point APNU member Amna Ally blurted out, "Clement!" to the laughter of other members and a chuckle from Rohee.
Bond said that the experience has even traumatised his son, who keeps reminding him that the police are going to shoot him.
Like Granger, he argued that an inquiry was necessary. "Guyana needs to correct certain mistakes… as a caring president, the president should tell Mr. [Anil] Nandlall to draft the Terms of Reference and get this [inquiry] on the road," he said. "I implore this House to… if not, this could very well happen again," he added.
Rohee, who also spoke on the motion, informed that he would not support the bill but called on the National Assembly to establish a commission on public safety. "I don't support it. I don't need 15 minutes to say I don't support it… Parliament should establish a commission on public safety, to which the Minister of Home Affairs is answerable," Rohee asserted. Throughout his presentation, he was subjected to heckling and laughter and he sometimes took aim at members of the opposition with jibes of his own. He pointed that the motions for commissions of inquiry brought to the House to date by Granger numbered six and that it seemed that for every occurrence another would be requested.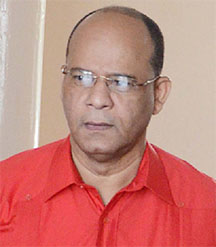 Rohee also read an excerpt from a Working People's Alliance (WPA) press release from 1980, during the PNC's time in government, and noted that persons were subjected to brutality by the police. The WPA record stated that 28 persons were locked up while others were injured by the police during a protest they held.
"That was Pholourie Joe," Ally heckled, apparently making reference to PPP/C MP Joe Hamilton, who recently admitted that as a member of the House of Israel he had beaten members of the WPA to break up their meetings.
Hamilton seemed tickled by her comments and began laughing as was most of the House at this stage. AFC Member Moses Nagamootoo interjected, saying "It was wrong then and it is wrong now."
Hamilton was also a speaker on the motion and he asked, "Are we going to manage the state via [commissions of inquiry]?"
He proposed that that recommendations from discipline services reports be analysed to see which aspects can be implemented and be useful.
Meanwhile, AFC Leader Khemraj Ramjat-tan, in his presentation, explained to the government side that inquiries were necessary to bring closure not only for persons involved but for the public.
"The AFC is saying that once there is a shooting, there should be a CoI… especially when it's for a political situation," he said, while adding that through this avenue wrongs can be corrected and politics can be bettered.
Comments

The improvised weapons (Prisons photo) Prison Staff this morning with the support of the members of the other services, reported for duty at the new holding area lusignan Prison.

Nicolas Maduro CARACAS/LIMA, (Reuters) – A group of 12 regional nations plus the United States rejected Venezuela's new government-allied legislative superbody, saying they would continue to regard the opposition-controlled congress as the country's only legitimate law maker.

Eighteen prisoners at the Lusignan penitentiary were being treated for injuries last night following a reported attempt to kill a fellow inmate during which warders fired shots.

A 12-year-old girl is now dead, while her brother narrowly escaped a similar fate yesterday after their aunt's La Bonne Intention (LBI), East Coast Demerara house, which they were under, collapsed on them.

Guyana has officially applied for membership in the European Union's Extractive Industries Transparency Initiative (EITI) which will help in tracking revenues from oil and other natural resources.