President's College alumni are voicing concern over the Education Ministry's apparent downgrade of the school and Minister Priya Manickchand says she is willing to meet with them on how the institution could best serve the country's children.
Last week, during the announcement of the National Grade Six Assessment (NGSA) results, Manickchand, asked about the absence of President's College among the top schools, said, "Twenty years ago, it [President's College] was created to be the top school; it no longer is functioning in that regard because it is not meeting the needs of our children best."
Her comments garnered much criticism from old students of the school and on Thursday Manickchand took to Facebook to respond to questions raised about the school's current standing. One former student, who posted an excerpt from the Stabroek News report, "President's College no longer among top schools for NGSA high achievers," questioned, "Why is it [the school] not meeting the "needs of our children best" anymore?"
In response to the criticism, Manickchand posted from her Facebook account, "Dear all, I am extremely pleased to see this robust discussion and to have been tagged in this post. I am very encouraged by the interest in what it seems is the alma mater of many of the persons commenting here.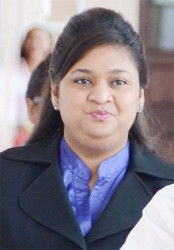 I would love to see this kind of interest replicated across Guyana re every school and past student. I would be happy to meet you all at an organized meeting where we could further discuss President's College and how it could best serve our children. Would be happy to host such a meeting or to attend one hosted by another. Pls [please] do let me know."
Some former students expressed enthusiasm at the possibility of a meeting while others believed that, akin to previous situations, nothing but empty promises would come out of any such a meeting.
During the announcement of the NGSA results, President's College was noticeably missing from the list of top secondary schools in Guyana. Cut-off marks for Queen's College, The Bishops' High School, St. Stanislaus College, St. Rose's High School, and St. Joseph's High School were announced and President's College's absence from the list raised eyebrows.
When questioned, Manickchand said that the school offered both residential and non-residential places for students across Guyana in all regions, except Region 3, who had attained 491 marks and more.
She added that as a result of the ministry's current position in regards to the school, top-notch education is being offered to those who would have otherwise been deprived of it. "If we were to say we're offering President's College only to top students, then essentially what we're saying is 120 elite students in this country will have the option of going to either PC or QC. Some will choose PC, some will choose QC and both will be underpopulated which is not good for the delivery of the quality education that can be delivered and it really denies children in the hinterland areas who can do better if they're given an opportunity with labs and so on; it denies them that opportunity," she said.
However, out of the hinterland regions (regions 1, 7, 8, and 9) only 10 students have achieved 491 marks at the NGSA this year. None of these 10 students came from region 8.
'Disturbing'
"For me it is disturbing that the Ministry has effectively lowered the standards of President's College via the lowering of the entry requirements of the institution," former student Amir Dillawar told Stabroek News. He added, "I would assume that the grading of schools would be based on their academic performance, and the entry requirements would reflect said grading.
As a layperson, saying to me that to go to President's College you need only 491 marks while you need Queen's College – 514, Bishops' High – 510, Saint's – 506, Rose's – 503, and Joseph's – 500 for the "top five" then you're essentially saying to me that President's College's performance has not been on par with these other institutions."
Dillawar also noted that Manickchand had judged the school as "generally underpopulated but extremely expensive to run because it is a residential school." However, he deemed the view as inaccurate.
Referring to the 2013 orientation brochure presented by the Ministry of Education for the school, Dillawar pointed out that the school's enrollment has not dwindled but instead showed growth over the years.
According to the brochure, viewed by this newspaper, in 2010, 2011 and 2012 the school recorded enrollments of 441, 593 and 616 students, respectively. These enrollments are on par with those of many secondary schools in Guyana.
"For the years 2007 to 2011, there were two teaching blocks and the school was forced to use rooms under the dormitory as classrooms," Dillawar said. "I can attest to this personally as I graduated the institution in 2007 for CSEC and 2008 for CAPE; so I am wondering where the question of the institution being underpopulated arose."
Dillawar also raised questions on claims that the school was too expensive to run. "For too long we have been hearing that PC costs too much to run and no one is giving us information on the costs to run other dormitory schools so that we can have a benchmark," he said. He continued, "Give us the number that justify what is being said so that we may establish that all that is being done to the school is not simply being done to eradicate whatever remnants of [Forbes] Burnham's legacy that remains."
Another alumnus, who asked not to be named, opined that the government has failed the institution. "The government has failed to or have stopped maintaining the standard of the school financially and with the supplementing of skilled and experienced teachers on purpose," he said.
"Further, sending students with lesser pass marks from the NGSA than what is required to earn the opportunity to attend President's College is causing a meltdown of the school's prestige and standards. At the same time, I'm not saying that anything is wrong with students of less pass marks."
He continued, "As an old student, like many others, I would love to see my school return to glory, a school that was rewarded to students from all corners of this beautiful country of ours because of hard work and diligence. President's College is a place where skin color and hair texture didn't exist but only harmony and unison; it's a place earned to sit next to "future leaders."
However, Guyana has become very messy because of politics."
Another former student, Shane Pearce, in a letter published in the Stabroek News, expressed disappointment that President's College was being treated "in a way that is unacceptable." He wrote, "Why is it not meeting the needs of our children? Why is it not functioning in the capacity it was designed for? President's College was designed to be the top secondary in Guyana, not the top secondary school on the East Coast of Demerara, as the Minister described it."
Comments

A sketch of the proposed Curepe Interchange (Trinidad Guardian) China Railway Construction Corporation (CRCC) has been awarded a $221.7 million contract by the National infrastructure Development Company (Nidco) to build the controversial Curepe Interchange, the state company's chairman Herbert George has confirmed.

Legal Advisor to the Police, retired Justice of Appeal, Claudette Singh yesterday testified that there was insufficient evidence in the allegation made by Andriff Gillard of an alleged plot to assassinate President David Granger.

Today at 2 pm the 30 councillors of the Georgetown City Council will once again cast a vote on the future of metered parking in the city and several of them have told Stabroek News that they want to be sure their vote accurately represents a mandate from residents.

Crime Chief Wendell Blanhum yesterday made a written request to be recalled before the Commission of Inquiry (CoI) investigating the allegation of a plot to kill the President of Guyana to defend himself against "appalling" statements made by Assistant Commissioner of Police David Ramnarine.

Two men were yesterday remanded to prison by a city magistrate after they were charged with the fatal stabbing of Rawle Rodrigues which occurred in January.