Granger poised to return as PNCR Leader
PNCR leader David Granger seems poised to retain the party's leadership during its 18th Biennial Congress next month as none of its leading members seem interested in challenging him for the top spot.
Carl Greenidge, who vied to be leader during the last congress and was Granger's closest rival, is not saying if he plans another challenge. Greenidge told Stabroek News that more important matters are engaging his attention at the moment. If he decided to challenge the leader, Greenidge might be Granger's strongest opponent.
The two men went head-to-head on two occasions in the last three years. On the first occasion, in 2011, they challenged each other for the party's presidential candidacy and Granger won, although the race was close.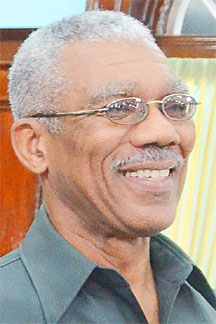 In July of 2012, Greenidge challenged Granger again, this time to be the party's leader. He lost again. Sources had told Stabroek News that of the roughly 650 votes cast Granger won about two-thirds.
Oscar Clarke, General Secretary of the PNCR, was extremely tight-lipped when contacted by this newspaper for information on the upcoming congress. However, Stabroek News has been told that the PNCR will hold its congress from July 25 to July 26.
Several members of the party's Central Executive, including Joseph Harmon and Amna Ally, have expressed interest in retaining their roles on the Executive body, and both have expressed confidence in the leadership of Granger.
"No, no, I will not be challenging Mr Granger. I believe he is a good leader and he should be re-elected," Ally told this newspaper during a brief interview on Thursday. Harmon also told Stabroek News that he has "no interest in challenging the leader of the party."
Harmon said he believes Granger is doing a good job as a member of the Central Executive, and that he believes Granger is competent enough to retain the reins of the party. He also noted that Granger is well-liked in the party.
Granger also seems to have the support of the party's younger members. James Bond and Christopher Jones, both of whom are Members of Parliament, have said to Stabroek News that Granger has their support to retain the leadership. Jones, in particular, said Granger has honoured promises to include the party's younger members in its work. He pointed to the several new, young faces sitting on APNU's side of the National Assembly as testament to the fulfilment of the promises.
Meanwhile, PNCR chairman Basil Williams, when asked if he has intentions of challenging Granger, said, "Bai, I wukkin suh hard me ain' even know what you talking about."
Granger, who has been leader of the PNC for almost two years, has told this newspaper that he means to maintain the party's headship come congress. He is confident of his chances of retaining the post.
There is though, the question of Granger's age. He is 68 and will be turning 69 early next month and so there may be questions as to whether he has the stamina needed to take the party into the next general elections, as will be the case if he retains the position of PNC leader.
At least one veteran politician, though, former speaker of the house Ralph Ramkarran, believes that age means nothing, and will certainly not hurt Granger's ability to effectively lead.