One year after the badly disfigured body of Guyana Defence Force (GDF) corporal Akeem Sampson was found sprawled on a bed in his locked Lamaha Springs home, his killer continues to roam free and there are no indications that the police are actively looking for anyone.
There are more questions than answers surrounding his death and it seems as though his relatives are no closer to having answers to them.
The 38-year-old father of one was found in his Rewa Street, Lamaha Springs home on June 14 by his stepson, who had to break a door to gain entry into the house which was locked.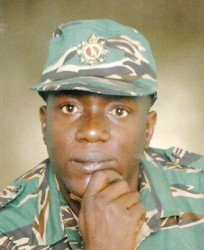 Sampson's sister, Fiona Simon who recently spoke with Stabroek News said "something just does not smell right" and expressed surprise that the army had failed to take an interest in the murder of one of its own.
"Nobody ain't telling us nothing," she said, explaining that subsequent to the murder relatives visited Camp Ayanganna to seek assistance and were subsequently put in touch with a lawyer who did not tell them anything positive. She recalled too that the army told them that it could not look into the matter as it was in the hands of the police. "One year pass and nothing… Everything jus shut down," an emotional Simon told this newspaper.
She said she was expecting that given the fact that it was a military man who was killed, the relevant authorities would have ensured that the matter was properly and vigorously investigated.
She noted that her brother joined the army at the age of 16 and was scheduled to retire at the age of 40; a reason why the army should have pushed the matter given the years he had served the organisation. "Now he get retired for life," she said sadly while noting that relatives were clinging to the hope that there would be some progress in the matter.
 Crime scene staged
Simon was adamant that her brother was not killed in the house but rather somewhere else. She expressed belief that after being killed he was returned to his home, placed on his bed and the area staged to appear that he died there.
According to her, it was a neighbour who called her and told her that Sampson had been found in the house and that she needed to go there immediately. She said the woman did not tell her that her brother was dead and when she arrived she found a few policemen standing outside. Based on her recollection, when she entered she saw her brother lying on his bed which looked neatly made. According to her, the bed and the other parts of the house did not show any evidence that there had been a struggle. She noted that had her brother been attacked in the house he would have fought back. She said that in addition to this, the fact that none of the persons living next door heard any noises prior to the body being found, also convinced her that he was killed elsewhere and his body taken to the house and the crime scene staged.
Simon stated that when she entered her brother's room his head was badly disfigured. She said too that from her observations her brother was burnt and was not decomposed as was being claimed. According to her, he was burnt from the face to the area above his navel.
"He couldn't have decomposed at that rate in two days… It wasn't that he was decomposed, he was burnt," she insisted adding that though the doctor said that he wasn't burnt, from her observations she is convinced that he was. She said when the undertakers removed the body, it was intact, and "nothing didn't fall off."
According to her when they returned to the house two weeks later to clean it, they found maggots near the bed. She stated that when Sampson's body was found there were no maggots which would indicate that decomposition had not started.
She said that at his funeral, they could not open the casket for viewing because of the disfigured nature of his upper body including his head.
A post-mortem examination revealed that Sampson died as a result of haemorrhage and shock due to a fractured skull.
While speaking to this newspaper she criticized the way the police handled the investigation. Simon said the police did not take photographs of the scene. She said that for her the way they operated confused her as they just looked at the body and then called the parlour to have it removed. She said investigators had returned to the area subsequently and had spoken to persons but "didn't do any kind of digging."
 Who killed Sampson?
Asked if she had any theories as to how Sampson met his death, she said, "I can't say what happened but I know that something don't smell right."
Relatives had pointed fingers at a woman who Sampson was involved with. Police had taken the woman and Sampson's stepson into custody but released them subsequently.
They had described the woman as an aggressive person and was in the habit of "handling" him. They said the woman was controlling and had even stopped him from talking to some persons when they were together.
While fingers were pointed at the stepson, they said they were convinced that he had nothing to do with Sampson's death. The stepson had been forced to sleep in his car on June 12 after he could not make contact with the man and the house was in darkness. He returned the following day but found the same situation. He subsequently broke down the door and made the gruesome discovery.
Simon told Stabroek News during the interview that they will leave the matter in the hands of God. "God don't sleep. We will get our reward," she stressed while revealing that Sampson's death was the second tragedy the family had been faced with in a matter of months. Four months prior, Sampson's younger brother died in Trinidad after he was poisoned.
She said that while she cannot say if the police will ever find the persons who killed Sampson, she knows that someday they will know the truth. She said that she often has flashbacks and cries a lot. "I have nobody else… I have to deal with it. I have nothing to say. I leave everything in the hands of God."
She said that she will continue to pray in the hopes that something positive happens.
Comments

Vamanadev Hiralall, of the privately-run Saraswati Vidya Niketan (SVN), is the country's top performer at this year's Caribbean Advanced Proficiency Examinations (CAPE) after achieving an accumulated 13 grade one and 3 grade two passes.

Twenty-six students in the top one percent of the 12,684 who sat this year's Caribbean Secondary Education Certification (CSEC) examinations earned 12 or more Grade I passes, with half of them, including the top performer, coming from Queen's College (QC).

On the second day of the Commission of Inquiry (CoI) into African ancestral lands and other matters, four witnesses made cases for the return of lands they feel they are rightly entitled to, which were either taken by the state or occupied by private owners.

Shelton George, the man charged with both murdering a waitress at a Chinese restaurant and the attempted murder of a magistrate, was found dead in his cell at the Lusignan Prison yesterday morning.

The Chairman of the Triumph Neighbourhood Democratic Council (NDC) yesterday instructed workers employed on a private site, reportedly intended to build a first-floor pool, to cease operations, just two days after residents called on authorities to halt its construction.