Eleven-year-old Jeremiah Bentham describes his mother as a "pusher" without whom he could not have done so extraordinarily well at the recently completed Grade Six Assessment. He placed sixth in the country with 524 marks, topping the public schools.
"She was very much encouraging; she is a hardworking supporting mother who is always there for you at your side whenever you may need her, and she is very understanding. Without her support I really don't think I would have done this well," Jerimiah said during a recent interview with the Sunday Stabroek.
"She was always like a pusher and every time I felt that it was too difficult for me she was right there to encourage me," the Winfer Gardens Primary School student said.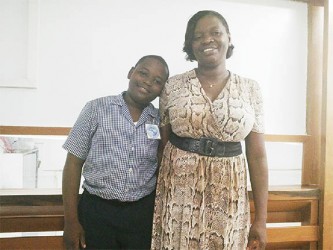 His words were testimony to the fact that he had a mother who was his biggest cheerleader.
As he spoke Ihebaa Bentham sat looking at her son, her eyes brimming with tears and she later spoke of the many mornings she sat with him as he studied, and in the afternoons she waited on him after a hard day's work as he attended lessons.
Jeremiah is the youngest son of Ihebaa and her husband Randolph – they also have a 17-year-old son – and while she is not a single mother like so many others she was left with the responsibility of ensuring that their children performed in school.
They live at Westminster, Parfaite Harmonie, and Ihebaa works as a cook in a canteen in the city, but she also makes fudge to sell so that the family's income can be supplemented. A huge lesion which is still healing is visible on one of her legs; it was sustained after hot fudge fell on her one morning while she was 'multitasking.'
From an early age she recognized that Jeremiah was an intelligent child and she recalled that he accompanied her to remedial classes and was just over one year old when he started commenting on the colour of the clothing persons were wearing. He did so even though he had not been taught the colours.
From the time he attended play school, Jeremiah excelled and he was also very active and was always chosen to participate in different functions and competitions.
Appropriately, one of the first poems he recited competitively was 'I am a child with potential,' for which he won a trophy. When he graduated from the South Road Nursery School he was tasked with doing the welcome and his mom remembers the Ministry of Education official who was present taking time out to praise him and stressing that his parents should encourage him as he had the potential to do great things.
He was very active in church, and still is, and preached his first sermon at the age of eight.
Detailing the difficult period leading up to the assessment, Ihebaa recalled that many times they got home after dark because of transportation difficulties, but even so she ensured that her son kept at his books. Owing to the fact that they arrived home late, the mother said she allowed her son to eat and retire to bed, but they would both wake up at 3am and it was then he would study. As the time drew closer to the examination she started waking him up at 4am. This was done from Monday to Friday; on Saturdays he attended lessons and in the afternoons he attended church at the First Assembly of God which he also attended on Sundays.
While her husband has a vehicle at one point it was not working, and this put additional strain on them. In the mornings they left home at 6am since Ihebaa has to reach work for 7 and in the afternoons, although she finished work at 3.30 pm, she would wait on him until he completed his lessons.
She knew her son had done exceptionally well when she got a call the day prior to the announcement of the results and was informed that she should visit the school the next day.
"I cried when I heard the news, and I said God there is nothing too hard for you to do."
'Challenging life'
Ihebaa said that putting it mildly, she had a "challenging life" while growing up, and she wanted better for her children even though she found her adult life was also challenging and many times she felt like quitting.
"But because of my children I stood there and spent a lot of time with them… I was going through terrible times but I still stood there for my children," she said as she encouraged women to always strive to ensure that their children received an education as this could not be taken away from them.
The mother said she had to make a conscous effort to focus on her sons and put them first, and ignore the trials and tribulations that life was throwing her way.
Her belief in God, she said, is what kept her going with the encouragement of a particular friend, and many times when she wanted to give up God kept her going.
While she did not appreciate how her husband comported himself, Ihebaa disclosed that he was there for their sons in terms of helping to provide for them, and when his vehicle was working he dropped them to school and would pick the youngest up after lessons and take him to her.
"But we needed more out of him, but at the time he couldn't recognize that because he wasn't walking the road I was walking, but now he is there and he is trying to understand and he said he now realise what I was saying," she said quietly.
He is a good father, she stated, but at the time he was not a good role model and she always told her sons not to look at their father at the same time reminding them that he was their father and they should respect him.
When she toils long hours it is for her sons, so she can ensure that they are comfortable, and her greatest reward is to see them excelling at their studies.
Her eldest son attends the Government Technical Institute (GTI) and has plans to re-write some CXC subjects as Ihebaa believes he did not do as well as he could have. She partly blames herself for not ensuring that he stuck to a rigid study timetable.
Jeremiah never doubted that he would have been granted a place at Queen's College; in fact he boasted to his mom that he would wear that "khaki and white with my gold tie," but he never imagined that he would have been among the top ten in the country.
"I was very much sure about attending Queen's College, but in my wildest dream I never thought it would have got this high, sixth in the country," the lad said.
He remembered that it was difficult at first to get up in the morning, but eventually it became a routine. He had to "give up a lot of things" like watching television and playing games on his computer.
"Those were the two things that were really keeping me back until my mother disconnected the computer and put it into her room and the television too went into her room and the only times I would get to look at television was news and maybe every other Friday I may get to watch like one thing on television," he said, adding later that it was all worth it.
Jeremiah's mom has promised him a gold ring which he says he would welcome, but his heart's desire is a Blackberry z10 which he says could help him with his school work. He is not sure how, but he pointed out that if he is close to Wi-fi he could quickly check up something for school. He one day hopes to become an aeronautical engineer.
Comments

With growing pressure on the government over the overcrowding of jails, MP Michael Carrington is confident that the parliamentary bill in his name to ease penalties on marijuana use will gain the support of the governing APNU+AFC benches of which he is a member.
The National Toshaos Council (NTC) is to begin its conference today and high on the agenda will likely be ongoing concerns about the lands commission of inquiry (CoI) which the government has convened.
A Trinidad-based medical products company has secured four contracts worth $135.4m. According to the Ministry of the Presidency (MotP), Cabinet at its meeting on August 15,2017 noted the award of 16 multi-million-dollar contracts.

The police on Friday evening discovered an AK-47 assault rifle and a quantity of ammunition in a haversack at Kingston, Georgetown.

A parcel consisting of 1,154 grammes of marijuana was intercepted after being thrown over the north eastern fence of the New Amsterdam Prison on Saturday afternoon.