GDF welcomes 276 new soldiers
-promotion for rank accidentally shot
The Guyana Defence Force (GDF) on Friday, graduated 276 new soldiers who have completed 10 weeks of training on its first Basic Recruits Course for the year.
A press release from the GDF said that the passing out parade for this latest batch of entrants was held on the Drill Square at the Colonel John Clarke Military School (CJCMS) at Tacama, Upper Berbice.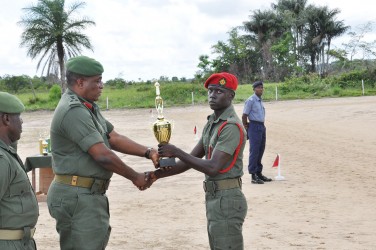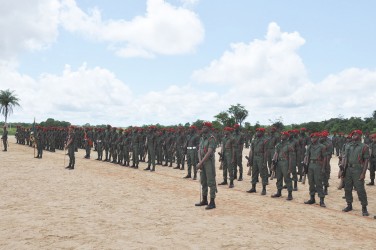 In his feature address to the new soldiers, Chief of Staff, Brigadier Mark Phillips, voiced the hope that the training has instilled in the new soldiers, "the qualities of serving correctly and being effective ambassadors of the GDF, and, by extension, the country".
The release said that he singled out the core value, 'discipline', and stressed that to be good soldiers, they must also understand their rights and obligations under military law, and, at all times abide by the values and standards of the GDF.
Phillips, the release said, reminded them that it was incumbent that they keep continuing education in focus as they perform their duties as soldiers.
Three hundred and five recruits started training at the end of May but 30 withdrew for various reasons.
Two–thirds of the new soldiers were trained at the CJCMS at Tacama, while the remainder were trained at GDF Base Camp Seweyo on the Linden-Soesdyke Highway. The release said that those trained at Seweyo, have been posted to the technical and speciality units of the Force.
Delroy Blacket, a resident of Paradise Village on the East Coast of Demerara and Mabaruma, North West District resident Brendon Holder, were the Best Students of the Seweyo and Tacama courses, respectively.
Vernon Harding, the rank who was injured in the recent accidental shooting incident at Tacama, was also promoted to the rank of Private. He continues to improve at the medical facilities at Base Camp Ayanganna, the release added.
Most Read This Week