Twenty-one-year-old Lisa Punch nailed Whitney Houston's "How Will I Know?" when she stepped onto the international stage with grace and poise on the new ABC series "Rising Star" and her almost breathtaking performance has seen her moving to the next round of the competition.
Punch, who only moved to Brooklyn, New York, late last year copped 80% of the votes cast and will be on stage again two Sundays from now. ABC had announced last week that she was among the 30 finalists chosen and with her stunning performance she is now into the duels.
Following her performance, Facebook and other social media came alive as Guyanese praised her performance and indicated her proud they were with not only her singing ability and her appearance but also how eloquently she delivered herself.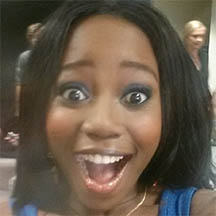 In her introduction speech, Punch spoke about growing up in beautiful Guyana but which she said is poor and a picture of the dilapidated house she called home was beamed on screen. She also spoke about her grandmother sponsoring her family of seven to move to the US where she now shares a two-bedroom apartment with 12 other persons. She hopes to win the competition so her family can move to a bigger home.
Following her performance one of the judges, country music superstar Brad Paisley, told her that her family would not only get a better home but she would also get a tour bus. Paisley and his fellow judges, music sensation Kesha and hip hop artist and actor Ludacris, all voted for Lisa.
On her Facebook page yesterday, Punch posted: "Super happy!!! Thank you for raising that wall tonight!!! You guys are so awesome! Thanks to the experts too for their votes as well! Superly excited!" along with a photo of her excited face.
Guyanese can support their star by downloading the Rising Star App through the Apple App Store, Windows Market Place, or the Google Play Store. The App is essential to participate in the voting process, it's free and easy to use. Viewers can register with their Facebook or Twitter accounts.
According to the instructions, before each performance, viewers will be asked to check-in, and then when it's time to vote, they will swipe Blue (to the right) to vote "yes" or red (to the left) to vote "no". Results will be visible "in real time", the network said.
The series airs over 10 weeks, with the qualifying rounds being held over the first 3. These shows will be 2 hours long each. These will be followed by the duels, quarterfinals, semifinals and finals, which will be an hour each episode.
Comments
British High Commissioner to Guyana Greg  Quinn  yesterday said that it was hoped that more would have been done to push the constitutional reform process forward.

A West Coast Berbice man died after he reportedly set his one-storey house ablaze sometime around 11.20 am yesterday.

A Yarrowkabra miner was yesterday charged with the murder of a co-worker, whom he allegedly beat to death during an alcohol-fuelled clash last Saturday at a dredge site in the Potaro Backdam.
A court action was yesterday filed challenging a directive issued in the name of President David Granger to the Police Service Commission (PSC) for a hold to be placed on planned promotions this year, Attorney Rajendra Jaigobin, who operates from the Chambers of former Attorney General Anil Nandlall, is seeking the following declarations by the court: "a declaration that the Police Service Commission, a Commission established by the Constitution of the Cooperative Republic of Guyana, in the exercise of its functions shall not be subject to the direction or control of any other person or authority;
UK security expert Lt Col (rtd) Russell Combe, who is working closely with the Guyana government to resuscitate the Security Sector Reform Action Plan (SSRAP), will be broadening his mandate to assess the country's prison situation.