A consultation between administrators and students of the University of Guyana (UG) degenerated into a yelling session of sorts for several moments when Vice-Chancellor Jacob Opadeyi found himself facing an interrogation over the proposed hike of tuition fees and his assurances that the institution would deliver better.
Opadeyi told around 300 students who gathered in the George Walcott Lecture Theatre (GWLT) at the Turkeyen Campus for the first consultation that a number of factors, including bad management over a number of years, has put the university in the situation it is in today.
UG Registrar Vincent Alexander explained to students that in 1994 it was decided that tuition fees would stand at US$1,000. When the decision was taken, the exchange rate between the US and Guyana dollar was US$127 to $1. Since then, the exchange rate has soared, due to inflation and other reasons, to US$210 to $1, and a proposal has been made to adjust the tuition fees to account for the difference. The new fee, if implemented, will stand at around $210,000.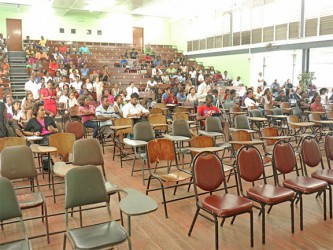 UG's Bursar, Holda Poonai, explained that because of the university's financial woes its liabilities and expenditure have exceeded revenue for several years now.
Opadeyi asked that the students support the adjustment and promised that it will be accompanied by improvements in UG's services and facilities. He also said that other initiatives will be pursued to garner additional revenue.
When it came time for the question and answer segment of the consultation, second-year student-at-law Glenfield Denison, who is from Belize, wasted no time in taking Opadeyi to task. As opposed to waiting for one of the microphones being circulated to be brought to him, Denison walked to the foot of the stage, where he awaited a microphone. Several students cheered as he made his advance.
With a microphone supplied to him, Denison stated that he had nothing against the proposed adjustment but asked nevertheless the rationale of opting to "drop the raise" on the students in an effort to improve the university's financial standing. With this question, almost the entire lecture theatre erupted into cheers as students clapped and thumped tables in approval.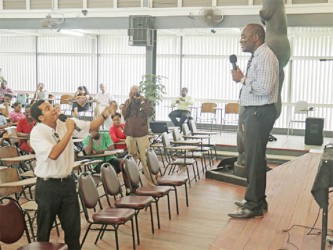 After the cheers subsided, Opadeyi explained that a fee adjustment was not the first option. He said that several other options, including cutting programmes not heavily subscribed to, were first considered.
Denison, who was very passionate by this time, asked Opadeyi if he could guarantee that there will not be more mismanagement once the adjustment is made. He again made it clear that while he is not against the adjustment, UG's administrators must be able to give some kind of guarantee that mismanagement will be addressed. Again, the lecture theatre burst into a frenzy of table-thumping and other signs of approval from Denison's fellow students urging him on.
To answer Denison's question, Opadeyi referred to the section of his presentation where he outlined proposed plans to improve the financial management of the university. Denison was not impressed with Opadeyi's presentation though and he told the VC that he read a recent report which contained promises and proposals similar to the ones made yesterday. "What makes you so special that we will listen to you when you tell us that you will do better, when for twenty years the other Vice-Chancellors did us an injustice?" he questioned.
Opadeyi playfully replied that he is a very special person.
By this time, what was supposed to be a consultation between administrators and students turned into a face-off between Denison and Opadeyi. Looking straight at Denison, a seemingly tense Opadeyi outlined several things he would do differently to improve the management of the university. But Denison was still not satisfied and continued to press for something tangible to be given to the students. Denison, loud and sarcastic by this time, even challenged Opadeyi to put together a document to show students what he has done for the university since he took up office about ten months ago. "What is your report card?" Denison asked the Vice-Chancellor.
He also said that a paper should have been prepared and circulated to the students for them to have a better idea of the administrators' plans. Denison also criticised the university for not consulting the students when it moved to develop its plan to improve the university's financial position.
Eventually, there was a need for intervention and among those who intervened was President of the University of Guyana Senior Staff Association (UGSSA) Patsy Francis. She expressed her admiration for Denison's passion and agreed that he, as well as other students, should be given certain documents to better inform their knowledge of the situation. At the same time, she pointed out a plan has been proposed by Opadeyi and his administrators, and that they should be given a chance to carry it out.
Three other consultations will be held this week as Opadeyi and the university's administrators look to garner support for the fee adjustment. Opadeyi has told Stabroek News that the adjustment will be implemented based on feedback from the consultations.
Comments

UN experts condemn racist violence in U.S., urge investigations GENEVA, (Reuters) – United Nations human rights experts called on the United States today to combat rising racist violence and xenophobia and to prosecute perpetrators of hate crimes.

The twin-engine Beech aircraft seized by authorities on an improvised airstrip on Sunday in the North Rupununi, Region Nine area, was yesterday confirmed as bearing a registration number belonging to an investment company in Brazil.

ExxonMobil yesterday signed a deal with Guyana Shore Base Inc (GYSBI) for an onshore support facility at Houston on the East Bank of Demerara.
While students who sat Caribbean Examination Council (CXC) exams in May and June of this year will be able to access their results online on Friday, the Ministry of Education has already announced that Guyana has recorded a 7% increase in passes at the Caribbean Advanced Proficiency Examinations (CAPE).

A post-mortem examination is expected to be done today to determine the cause of death of a nine-month-old baby, who died on Monday after she was left in a car.