The absence of local government elections is robbing communities of vital relationships with their political representatives, according to United States Ambassador to Guyana Brent Hardt, who believes that once this gap is bridged it will be transformative for the country.
"One of the challenges Guyana faces in its political system is a lack of connectivity between people and their government… to me this is something that really could be and will be a transformative issue for the country to hold these elections," Hardt told Stabroek News in an interview on Monday.
As he prepares to leave these shores come early July, when his tenure ends, the US envoy pointed out that he still is perplexed as to why the elections have not yet been called. "There is no reason why local government elections should be delayed at this point," Hardt affirmed.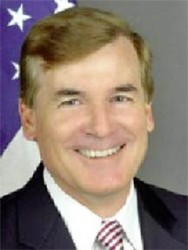 He made reference to a series of statements from government promising to hold the elections.
"Let's take you back to elections 2011… all three parties called for local government elections. The PPP's manifesto says they will hold them within a year of being elected. 'Ensure, within one year of the 2011 General Elections that Local Government Elections are held,'" Hardt stated, quoting from the manifesto.
Further, he noted that after the US, Britain and Canada urged the holding of the elections last year, President Donald Ramotar had stated that his government wants to hold the elections but that legislative measures needed to be put in place. He said that Ramotar had explained that many of the problems his government faced was due to the fact that there had not been local government elections.
"The question is [now] that three bills are in place, Gecom has indicated they are prepared to go within four to six months, what? …People will look at this and say, 'Look, we have all this and then you finally have everything in place.' And you start to see suggestions that this is a judgement call or political issue," he said.
He said now it seems that government's past promises of holding the elections coupled with the constitutional requirement for the holding of the polls have been replaced with a political judgement call by the current administration. "This is an issue that cuts to the core of the constitution of the country and to legislation that is already in place," he stated. "Certainly there was a history in recent years why that didn't happen all those years but all of those issues are no longer relevant. At this time, I think it's time for the people of Guyana to enjoy local governance… effective, elected local governance," he added.
In explaining the importance of giving communities access to a local political representative, the ambassador alluded to sister Caribbean countries, where members of parliament would meet residents of their constituencies on specific days to hear their concerns. This, he said, was where local governance can play an important role.
"It's complicated; the list system you have in Parliament, you don't have an MP in your district like we have a congressman and people in the Caribbean they have their MP…in my travels in the Caribbean, people go to their MP when they have office hours and unburden themselves of all their concerns and cares, pointing out what actions they need and help with this and that," he noted.
"So because of the list system, you don't have that kind of connectivity at the national level and that makes it all the more important that you have some level of connectedness at the local level government; that people know who they can turn to when they need a pothole fixed or drainage unblocked, a pile of garbage picked up or a playing area for their children to play safely," he further stated.
Hardt believes that the president can make a name for himself should he be the one to call the elections and urged him to seize the opportunity. "I think President Ramotar has a historic opportunity to be that president that restores local governance to the country and I do hope he seizes that opportunity and gives people the chance to be more involved in their communities," he said. "It would be such a boost to the country to communities across the country," he added.
Comments

CARACAS/SAN CRISTOBAL, Venezuela,  (Reuters) – A wave of looting by hungry mobs across Venezuela has left streets of shuttered shops in provincial towns and pushed some store owners to arm themselves with guns and machetes, stirring fear that the turmoil could spread to the capital Caracas.

Taariq Stephens (New York Daily News photo) A Brooklyn man got a 41-year maximum prison sentence yesterday for killing a 16-year-old Guyanese girl who authorities said rejected his advances.

PRETORIA,  (Reuters) – Debutant Lungi Ngidi took six wickets as South Africa defeated India by 135 runs to claim victory in the second test in Pretoria today and also win the series with an unassailable 2-0 lead in the three-match contest.

(Trinidad Guardian) Environmental activist group Fishermen and Friends of the Sea (FFOS) has obtained an interim injunction barring the Government from continuing work on the first phase of the $400M Churchill Roosevelt Highway Extension to Manzanilla.

Three persons, including the widow of one of the two Pomeroon farmers shot dead on Sunday, have been taken into custody and police say one of them led detectives to the location of an arms cache that allegedly belonged to one of the deceased.