After a drunk driver slammed into her car and persons pretending to render assistance robbed her while she was unconscious, Lorna Johnson is now recuperating in the Georgetown Public Hospital.
Johnson, 55 who sells newspapers in Stabroek Market, suffered injuries to her head as well as four broken ribs and a broken hip in the accident, which occurred on Sunday.
Johnson was rushed to the hospital by public-spirited citizens after a car slammed into her car as she was driving along North Road.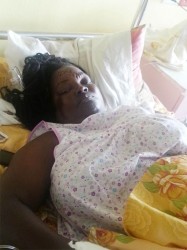 "I was going over North Road and Alexander Street. I stopped at North Road. I didn't see anything, and I drove off. By the time I drove off, I see a bright light, a speeding car coming, but at the pace I was going, I couldn't make it across. So badam! They knock me and that was it until I find myself in hospital," Johnson recounted to Stabroek News.
Even though she was in pain, Johnson said that when the ambulance picked her up, she remembered a medic saying "it's alright paper lady, we got you." She has been selling newspapers for about 20 years.
Johnson related that whenever she leaves the market, she would parcel her money according to newspapers and would then hide the bundles in the car. "Instead of people help, they just help themselves," she lamented, referring to the persons who stole the money from her car as well as her cellular phone.
As far as she knows, the police apprehended the men in the car that hit her. Her daughter informed her that the men were drunk. She said that the police told her that the men should have appeared in court yesterday.
Despite being in good spirits, Johnson was having difficulty breathing because one of the broken ribs grazed her lungs. Even though she was fitted with steel to support her broken hip, she related that the doctors informed her that nothing can be done for her ribs at this time.
Johnson said being the breadwinner of her family and being confined to bed puts her at an incredible loss and her family at a disadvantage. Even though she had nothing ill to say about those responsible for her current condition, she did add that despite the promises the men made to her daughter on the day of the accident, no one has come to see her yet. She said, "I don't know if they think I'm rowdy or something, they should come see me."
Comments

Eighteen prisoners at the Lusignan penitentiary were being treated for injuries last night following a reported attempt to kill a fellow inmate during which warders fired shots.

A 12-year-old girl is now dead, while her brother narrowly escaped a similar fate yesterday after their aunt's La Bonne Intention (LBI), East Coast Demerara house, which they were under, collapsed on them.

Guyana has officially applied for membership in the European Union's Extractive Industries Transparency Initiative (EITI) which will help in tracking revenues from oil and other natural resources.

State Minister Joseph Harmon yesterday reiterated that President David Granger's directive to the Police Service Commission to halt its consideration of promotions was intended to prevent damage to the image of the Guyana Police Force but he could not say under what authority the head of state acted.

While saying that a strong security presence along the country's borders is the first line of defence against transnational criminal syndicates, President David Granger yesterday called for cooperation by all actors to see the security of Region Nine as a priority.