Days after his father was sentenced to three years' imprisonment for cocaine trafficking, 19-year-old Darren Harris Jnr was yesterday further remanded to prison when he made another appearance in court.
The youth appeared before Magistrate Leron Daly at the Providence Magistrate's Court, where his attorney, James Bond, presented a bail application. Bond noted that on the last occasion, the older Harris had indicated that his son was not involved in any cocaine trafficking.
"Is me and meh son get hold but he din know what was in there [the suitcase handles]. Is I put it in deh," Darren Owen Harris had stressed before his sentencing.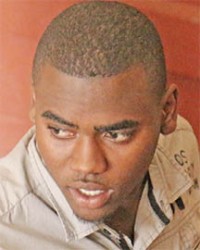 However, Customs Anti-Narcotics Unit (CANU) Prosecutor Oswald Massiah told the court that Harris Jnr's matter was a different matter and maintained his objections to bail. As no special reasons were raised by the defence, Harris Jnr was further remanded to prison until June 30.
On the next appearance, Bond informed the court, he would present a signed affidavit from the young man's father emphasising the 19-year-old's innocence.
Darren Harris Jnr and his father had initially appeared before Chief Magistrate Priya Sewnarine-Beharry on Monday charged with possessing narcotics for the purpose of trafficking. In the day's morning session, Harris Snr admitted that, on June 20 at the Cheddi Jagan International Airport (CJIA), he had 1.454kg of cocaine concealed within the handles of his luggage. His plea earned him a three-year sentence in jail.
Later that day, Harris Jnr appeared in court and denied that he, on the same date at the CJIA, had 1.176kg of cocaine. His drugs were reportedly hidden in beads on two ladies' handbags. According to Prosecutor Massiah, the defendant had told the Customs Anti-Narcotics Unit officers that he had been given the bags by someone to deliver to the USA.
Comments

SYDNEY,  (Reuters) – England's Jos Buttler struck a belligerent unbeaten 100 to set up a 16-run win over Australia in the third one-day international on Sunday, as the touring side took an unassailable 3-0 lead in the five-match series.

The Public Procurement Commission (PPC) hopes that by the end of this year debarment legislation would be in place as it will soon begin meeting with stakeholders on a draft.

A bill to provide a legal framework for the protection of witnesses was passed without amendment by the National Assembly on Friday evening despite arguments by the parliamentary opposition that it failed to take into account modern challenges.

The ownership of over $7 million in local and foreign currencies and several vehicles that were all seized during a raid by the Customs Anti-Narcotics Unit (CANU) at Soesdyke, East Bank Demerara on Friday has raised questions and a separate probe is expected to be launched.

Weeks after its major oil find at the offshore Ranger-1 well in the Stabroek Block, ExxonMobil's local subsidiary is preparing to begin drilling at the Pacora-1 well site in the same area.