Caleb Caesar, a security guard, was yesterday remanded to prison after being charged with being party to a plot to export 15.55 kilos of cocaine hidden in ochroes to the United States.
Caesar was arraigned at the Georgetown Magistrates' Court on a charge that between April 1 and August 13, 2013, at the Kingston Seawall, Georgetown, he conspired with Hadrick Cummings to traffic 15.55 kilogrammes of cocaine.
The man pleaded not guilty to the charge when it was read to him by Chief Magistrate Priya Sewnarine-Beharry before whom he appeared.
Caesar was unrepresented by counsel.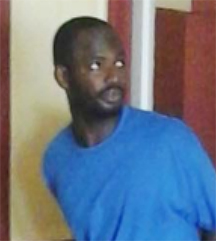 Prosecutor Bharat Mangru said that on August 12, 2013, Cummings was intercepted with the drug in a quantity of ochroes he was attempting to ship at the Cheddi Jagan International Airport, Timehri (CJIA).
The court heard that Cummings had pleaded guilty to the charge and was sentenced to five years in prison and fined $40.5M.
According to Mangru, it was during investigations into that matter that Cummings revealed that he and Caesar had met and spoken about concealing the drug in fruits and vegetables for exportation.
The court was told that further investigations were carried out and advice was sought that led to Caesar being subsequently arrested.
Magistrate Sewnarine-Beharry granted the prosecution's request to deny bail and the accused was remanded to prison. The case was transferred to Court Five and will be called again on July 4.
On August 14, last year, Cummings, who attempted to smuggle cocaine out of the country in a shipment of ochroes, was sentenced to five years in jail and fined $40.5M after admitting to the crime.
Cummings, who is the registered owner of Ebiney Import and Export, attempted to smuggle 15.55 kilos of cocaine, with a street value of $13.5M, into the United States through the CJIA.
Police prosecutor Neville Jeffers had said that on August 12, 2013, Cummings presented himself to Total Air Cargo, an agent for Amerijet International at the CJIA, producing all the relevant documents to export 195 boxes of vegetables, including bora, ochro and eggplants.
However, when ranks from the Police Narcotics Branch examined the shipment in his presence, they found 99 boxes of fresh ochro which contained the illicit drug.
The ochro was hollowed out and filled with the illegal substance.
As a result, Jeffers said Cummings was told of the offence and arrested and under caution he claimed full knowledge of the cocaine in the ochro and said he conspired with others to send the shipment.
"…The reason why I go ahead with this is because my mother is sick. So, I tried something but I did not succeed," Cummings, 25, of 23 John Street, Campbellville, had told the Court, before being sentenced.
Comments

(ICC) Antigua and Barbuda, Guyana and St Lucia were today announced by the International Cricket Council (ICC) as the venues for the ICC Women's World Twenty20 2018, which will be staged from 9-24 November.

The sugar union, GAWU today said that more sugar workers are to be made redundant.

(Trinidad Guardian) Education Minister Anthony Garcia says the University of Trinidad and Tobago (UTT) is of the view that the organisation is "overstaffed and to run the university efficiently it will mean they have to trim fat." But former Tertiary Education Minister Fazal Karim is warning that the decision to retrench 287 staff members, will "compromise the quality of teaching and learning and administration at the university," and may impact its accreditation with the Accreditation Council of Trinidad and Tobago (ACTT).

In preparation for Guyana's emerging oil and gas sector and the bustling business usually synonymous with the industry, the Pegasus Hotel is expected to undergo a huge expansion which includes office and residential rental spaces.

Police Commissioner Seelall Persaud is to resume his duties today after spending approximately six months on leave, Public Security Minister Khemraj Ramjattan yesterday confirmed to Stabroek News.