Natalie Caseley, the mother of four-year-old Jaden Mars, who died at the Georgetown Public Hospital (GPH) in December after treatment for a bitten tongue, is moving to sue the hospital for compensation.
Caseley told Stabroek News that the decision came about after numerous failed attempts to attain justice for her son.
"I've given them a chance to do right by not only me but by Guyana at large but I've recognized that they are only engaging me a bit and after that I'm on my own," she said.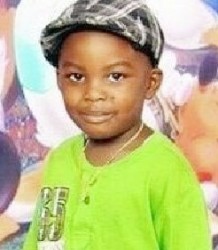 Six months after her son's death, Caseley still awaits disciplinary action to be taken against those culpable for Mars' death. Since late April, she had been hearing that disciplinary actions were to be taken against four health care workers who had been involved in handling her son prior to his death late last year.
According to the mother, she had received reports that the implicated nurse had been "sent off" for training. However, the three culpable doctors are still on the job, she said. No one from the nursing or medical councils, she emphasised, had made contact with her.
She is also in the process of setting up a meeting with Minister of Health Bheri Ramsaran. In the meantime, she is working closely with attorney-at-law Nigel Hughes to sue the hospital.
"I've given them a chance to update me and show me that they're trying to bring about change," Caseley pointed out. "However, they're not doing that so it's time to take them to court."
Jaden had been admitted to the Georgetown Public Hospital on December 4, 2013 after he had fallen while playing at his West Ruimveldt home and bitten his tongue. On December 11, he died in the intensive care unit (ICU) of the hospital after suffering multiple heart crashes. A subsequent post-mortem examination showed that the young boy had died as a result of a pulmonary embolism.
Comments

Wijeyadasa Rajapakshe   COLOMBO, (Reuters) – Sri Lankan President Maithripala Sirisena today sacked the justice minister over his criticism of a $1.1 billion deal, signed last month, to lease a port to a Chinese company, the cabinet spokesman said.

NEW YORK,  (Reuters) – Two Harvard University researchers said in a study published today they had collected scientific data proving Exxon Mobil Corp made "explicit factual misrepresentations" in newspaper ads it purchased to convey its views on the oil industry and climate science.

In the wake of rising bad loans and a massive alleged fraud against it this year, the Guyana Bank for Trade and Industry (GBTI) has posted an unaudited net after tax profit of $603m for the first six months of this year compared to $961m in the same period for 2016.

Vamanadev Hiralall, of the privately-run Saraswati Vidya Niketan (SVN), is the country's top performer at this year's Caribbean Advanced Proficiency Examinations (CAPE) after achieving an accumulated 13 grade one and 3 grade two passes.

Twenty-six students in the top one percent of the 12,684 who sat this year's Caribbean Secondary Education Certification (CSEC) examinations earned 12 or more Grade I passes, with half of them, including the top performer, coming from Queen's College (QC).