People's National Congress Reform (PNCR) member Vanessa Kissoon was suspended by the Central Executive of the party on Wednesday, according to reliable sources but up to yesterday she told Stabroek News that she had not been officially notified.
Kissoon, also a Member of Parliament for main oppositoon APNU, of which the PNCR is the largest constituent, also pointed out that there is an established procedure for disciplining party members and it would be a violation of the party's constitution if it was not followed.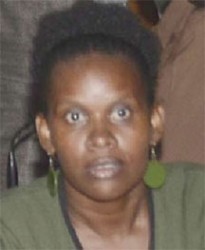 Sources told Stabroek News that the suspension came following an incident between Kissoon and a senior member of the PNCR. This newspaper was unable to contact Congress Place officials for comment yesterday.
Contacted by Stabroek News, Kissoon said, "I have not been notified by the Central Executive Committee or any disciplinary authority of the party of any disciplinary action, or proposed disciplinary action intended against me. I have heard from sources however that last evening, Wednesday 25 June [the] Central Executive has suspended me."
Kissoon, who has a support base in Linden and had a heightened public profile during the unrest in the mining town two years ago, said that under the party's constitution, Article 24 (16) Disciplinary Procedures states that "the member against whom the complaint has been made must be given in writing a short statement setting out clearly, with reasonable particulars, the nature of the allegations against him."
The PNCR constitution also states that "the member must be given a reasonable opportunity to defend himself and to call witnesses and produce documents relevant to his defence" as well as "the member shall have the right to be assisted at the inquiry by a party member of his/her choice."
Kissoon made it clear that none of the procedures were followed "so the issue of me being suspended, just like that, if taken seriously would be in violation of the constitution."
Stabroek News was made to understand that there were differences over the use of PNCR facilities in Linden. Locks on the facilities were changed and this subsequently led to an altercation involving Kissoon.
Kissoon acknowledged that she was aware of a specific incident but noted that it would not in her opinion warrant a suspension without due process. She said, "I also know of no incident that would exclude the action of the other party involved coming under serious sanctioning if my actions are seen as a worthy of sanction. It takes two to tango and every action has a reaction."
She said that she did not wish to further comment on the reported suspension until she was contacted by the PNCR. "I seriously doubt if the leader of our party, Mr David Granger, would preside over the party's Central Executive in a manner that is unconstitutional. It would not set a right precedent nor standard of practice for the party or any of its many young people," she, however, added.
Unknown to her, Kissoon, a Member of Parliament since 2006, was moved earlier this year from the second row of APNU's parliamentary contingent to a back seat. When asked about this, Granger, told Stabroek News that consequent to the resignation of MP Deborah Backer, the opposition coalition had to make some changes. He said that among those changes was to move MP Ronald Bulkan from the back bench. Bulkan now sits in the front bench alongside Granger and MPs Basil Williams, Amna Ally and Dr. Rupert Roopnaraine.
According to Granger, "It was an administrative move."
Kissoon had said then to Stabroek News, "I am here to represent the people of Guyana and the people of Region Ten who elected me to fill a seat in Parliament."
She said that in spite of the move to the back bench, she would continue to serve the country and the people who placed her in the Assembly. "It bothers me not where I am seated. My voice will still be heard. I am not worried because I am there for the people," she added.
Comments

MUMBAI, (Reuters) – India captain Virat Kohli had something to cheer on Thursday when he was named ICC World Cricketer of the Year, a day after suffering his first test series defeat as skipper in South Africa.

Fifteen city councillors voted yesterday in favour of accepting the recommendations of the parking meter renegotiation committee, which would see a reduction in parking fees to $150 per hour, exemptions for religious organisations and schools, and Smart City Solutions (SCS) giving up on their claim to garage parking.

A GDF rank was yesterday remanded to prison over three armed robbery charges and alleged possession of an unlicensed gun and ammunition.
Minister of Natural Resources and Leader of the Alliance for Change (AFC), Raphael Trotman on Monday praised ExxonMobil for investing in the oil sector here and said it is now resulting in other important companies wanting to do business here.

The city lance corporal, who on Sunday allegedly shot and killed Marlon Fredericks, a mentally-challenged vendor, after he reportedly attempted to flee custody is to be charged with manslaughter.