Guyana Water Incorporated (GWI) workers were up to yesterday afternoon carrying out emergency repairs to a main at the junction of Waterloo and Quamina streets that was damaged by a truck, resulting in a "significant" sewage spill.
According to GWI, the truck, belonging to a private company, damaged the main at around 11 am yesterday.
When Stabroek News visited the area, a section of Waterloo Street was flooded with sewage and motorists could be heard cursing and yelling at GWI workers, venting their frustration at the situation. "What y'all doing? Bare mess ya'll meking," a car driver said.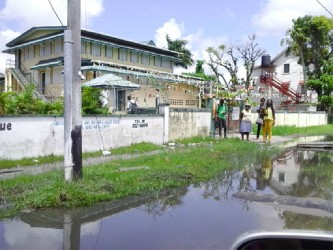 Others were heard commenting on the fact that the road had been broken in several places to replace sewerage pipes under GWI's sanitation rehabilitation project and had not been fixed as yet.
On Tuesday last, GWI had issued a statement to the effect that the inclement weather had affected the activation of rehabilitated sewer mains as well as road repairs. The release said the concomitant flooding had forced a halt to the works, but they would be restored as soon as the rainy season is over.
GWI said the contractors had indicated that the flooding would significantly affect the quality of road repairs.
GWI yesterday urged commuters to exercise extreme caution in the vicinity of the spill from the damaged sewer main adding that the emergency repairs would be completed in the swiftest manner possible.
Comments

A sketch of the proposed Curepe Interchange (Trinidad Guardian) China Railway Construction Corporation (CRCC) has been awarded a $221.7 million contract by the National infrastructure Development Company (Nidco) to build the controversial Curepe Interchange, the state company's chairman Herbert George has confirmed.

Legal Advisor to the Police, retired Justice of Appeal, Claudette Singh yesterday testified that there was insufficient evidence in the allegation made by Andriff Gillard of an alleged plot to assassinate President David Granger.

Today at 2 pm the 30 councillors of the Georgetown City Council will once again cast a vote on the future of metered parking in the city and several of them have told Stabroek News that they want to be sure their vote accurately represents a mandate from residents.

Crime Chief Wendell Blanhum yesterday made a written request to be recalled before the Commission of Inquiry (CoI) investigating the allegation of a plot to kill the President of Guyana to defend himself against "appalling" statements made by Assistant Commissioner of Police David Ramnarine.

Two men were yesterday remanded to prison by a city magistrate after they were charged with the fatal stabbing of Rawle Rodrigues which occurred in January.