Rice farmers from Region Two on the Essequibo Coast yesterday staged another protest against poor drainage and non-payment by millers.
According to Chairman of the Essequibo Paddy Farmers Association Naith Ram, it was the fifth protest by the farmers over the last four months.
"These protests are not anything new. We have been protesting since the last crop and we will continue to do so until our voices are heard," he said.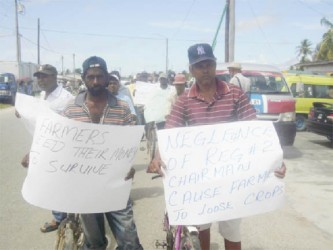 The continued protests are part of an ongoing exercise by the Essequibo Paddy Farmers Association in their quest for their issues to be addressed. Farmers marched from Cotton Field to the Anna Regina Car Park. A rice farmer from Devonshire Castle said he is dissatisfied with the way in which rice farmers are being treated. "The sluice at Devonshire Castle ain't even working. No water can't get to drain from the rice land because of this. Them carry a pump there but it only wuking fuh two hours then the operator gone. Them things dah aint right. We meking a living off a' we rice field," he said.
This publication was told that most of the rice lands in Richmond, La Belle Alliance and Lima are flooded and this has caused enormous losses to farmers.
"The Chairman of this region is to be blamed for all of this. He move the hymac that was digging in Lima and carry it till to Three Friends where is more high. Now everybody land deh under water," another farmer said.
When asked if any effort was made to contact Chairman of Region Two Parmanand Persaud, the man who identified himself as Terry, said, "Yes. I went to him several times and I even call him but all he does be saying is that he gat to deal with priority. All a' we land is priority to. This is how we meking we living."
However, when Stabroek News contacted Persaud, he denied that he ordered that the excavator be removed from Lima. "I never did such. In fact there was an emergency at Three Friends and the excavator had to be taken to install the pump that was recently commissioned there. The Ministry of Public Works gave permission for it to be removed from Devonshire Castle to Three Friends," he said. He added that works at Devonshire Castle were completed and the excavator will be put to work in another village.
The protesters marched from Cotton Field and when they gathered at the car park, a further decision was made by them to assemble at the Anna Regina High Bridge, even though permission was not granted for them to use the bridge. "We going to the High Bridge because we want our voices to be heard. We still not getting paid. We land still under water. We have to get justice," one man shouted.
Ram had said earlier that he had applied to use a PA system but this request was denied. "We protesting peacefully here and we don't want no trouble. I believe it is unfair that we as rice farmers can't use a PA system but other people can get permission to use it right here on this park."
Comments

Following an outreach in Lethem today, President David Granger (centre at left side of table) held a  high-level security meeting with a number of officials including Guyana Defence Force Chief of Staff, Brigadier Patrick West (third from right on right side of table) and British security sector reform advisor Russell Combe (second from right on right side of table) among others.

The Guyana Power and Light (GPL) says that just after midday today, three armed bandits stormed its Parika Customer Service Centre; robbing the location of all revenues received up until that time, holding the  staff and customers at gun point and disarming a security guard of a gun.

The Management of Cheddi Jagan International Airport Corporation (CJIAC) is currently undertaking a massive expansion project  and a Temporary Arrivals Terminal Building was recently constructed.

Tourism Minister Shamfa Cudjoe announced the decision to close the company. (Trinidad Express) The Tourism Development Company (TDC) has ceased operations.

Cevons clearing city garbage WPA STATEMENT ON THE UNRESOLVED ISSUE OF GARBAGE COLLECTION IN THE GEORGETOWN MUNICIPALITY The WPA is deeply concerned that the Georgetown City Council's inability to honour its financial obligations to Cevons Waste Management and Puran Brothers has the potential of endangering the health and lives of citizens.