The Guyana Marriott is slated for an official August opening, however sources have ventured that this date is likely to be pushed back further to October. Meanwhile, the five-star hotel is yet to commence the hiring of staff.
To date there have been no advertisements in the local media as regards hiring staff. Observers have wondered how the hotel will provide five-star service if it is yet to hire, let alone train personnel.
President of the Tourism and Hospitality Associa-tion of Guyana Kit Nascimento told Stabroek News that he understood the potential challenge for the Marriott in hiring competent staff that will have the ability to provide five-star service.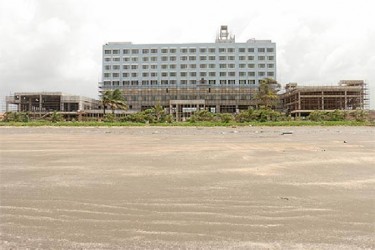 He said "I doubt that the Marriott will do anything to undermine their international reputation… they will meet those requirements or they may not open until they do." Nascimento said the Marriott project was "desirable" and definitely a necessity if Guyana wanted to move further into developing an extensive tourism sector.
He did concede that customer service has remained a consistent challenge in Guyana across various industries, but especially the service and tourism sectors. "It is an ongoing challenge. It is a challenge that we all have to meet," he said in relation to training and hiring staff and transforming customer service across the board.
With regard to the Marriott, Nascimento said there would be need to make provisions and arrangements to ensure that staffing needs were met and at the level that would deem it a five-star experience for customers staying at the hotel when it does open. He said that the hotel has appointed a general manager and management would already be putting measures in place to meet the demands of the hotel.
He said that prior to local staff being brought on the Marriott could potentially be hiring from overseas or bringing persons from other locations to facilitate training. But with just over a month until the planned opening the latter option seems to be cutting it right down to the wire.
The former option of outsourcing work, even in the interim, goes against what was promoted as one of the selling points of the Marriot by the government – that more than 250 jobs were to be created for Guyanese.
While according to Nascimento, hiring overseas personnel to conduct training in the beginning stages was nothing out of the ordinary, there is a general consensus in the industry that vigorous training could take up to six months to meet the demands of a five-star hotel.
Director of Ariantze Hotel Sidewalk Café and Jazz Club Cathy Hughes said that prior to the Marriott management making official statements it is not clear how it has been proceeding in terms of training and hiring of staff. "In Guyana training has always been an issue and the art of training is expensive," she said.
Hughes noted that the Marriott was an established brand and it was more than likely that training would be done in-house and that the company philosophy would be the determining factor in how it proceeds with hiring and training.
She said that like all hotels it will cater to its market and the business traveller with a company allowance that will cater for a US$200 a night room will have a different experience expectation than the backpacker who is likely to have a less established budget.
Hughes stated that for the Marriott it will have the backing of its brand.
However, this can be both a positive and a negative as customers will be expecting a level of service that many in Guyana have too often complained has never been achieved.
Head of Atlantic Hotel Inc, the special company that was established to run the Marriott project, Winston Brassington, had previously stated that Marriott General Manager Roberto Grisi would soon be permanently residing in Guyana and staffing concerns would be addressed shortly.
Comments

Wijeyadasa Rajapakshe   COLOMBO, (Reuters) – Sri Lankan President Maithripala Sirisena today sacked the justice minister over his criticism of a $1.1 billion deal, signed last month, to lease a port to a Chinese company, the cabinet spokesman said.

NEW YORK,  (Reuters) – Two Harvard University researchers said in a study published today they had collected scientific data proving Exxon Mobil Corp made "explicit factual misrepresentations" in newspaper ads it purchased to convey its views on the oil industry and climate science.

In the wake of rising bad loans and a massive alleged fraud against it this year, the Guyana Bank for Trade and Industry (GBTI) has posted an unaudited net after tax profit of $603m for the first six months of this year compared to $961m in the same period for 2016.

Vamanadev Hiralall, of the privately-run Saraswati Vidya Niketan (SVN), is the country's top performer at this year's Caribbean Advanced Proficiency Examinations (CAPE) after achieving an accumulated 13 grade one and 3 grade two passes.

Twenty-six students in the top one percent of the 12,684 who sat this year's Caribbean Secondary Education Certification (CSEC) examinations earned 12 or more Grade I passes, with half of them, including the top performer, coming from Queen's College (QC).