Vanessa Kissoon 'not recalled' to Parliament – PNCR
The People's National Congress Reform (PNCR) has provided no details on the suspension of its member Vanessa Kissoon, except to say that she has not been recalled to Parliament.
At a press conference on Friday last at A Partnership for National Unity's (APNU) head office, Chief Whip of the coalition, Amna Ally evaded responding to an enquiry about Kissoon's suspension and instead informed the press that Kissoon was "not recalled to Parliament."
"If there is a matter," she said "it is an internal matter for the PNCR. If there is a matter, I can assure you that the way it is being dealt with, is guided by the party's constitution."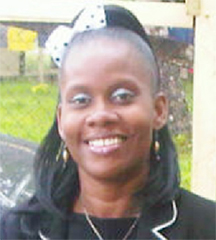 The shadow Education Minister, however, declined the request to state what the constitution said on the issue.
"We cannot go about in the public and use speculation," Ally said, when the party's level of transparency was challenged by members of the press. "Whenever, if there is a matter…, the investigation is done, whenever [there are] findings, certainly the people will know. There is no secrecy about our business," she said, adding there is an investigation "if you consider it that," into the Kissoon matter.
Stabroek News was made to understand that a difference arose over the use of PNCR facilities in Linden. Locks on the facilities were changed and this subsequently led to an altercation involving Kissoon.
When contacted earlier Kissoon had acknowledged that she was aware of a specific incident but said it would not, in her opinion, warrant suspension without due process. She said, "I also know of no incident that would exclude the action of the other party involved coming under serious sanctioning if my actions are seen as a worthy of sanction. It takes two to tango and every action has a reaction."
She had also informed this newspaper that she had not been notified of any disciplinary action or proposed disciplinary action intended against her, though she had heard from sources that the Central Executive has suspended her.
Kissoon, who has a support base in Linden and had a heightened public profile during the unrest in the mining town two years ago, said that under the party's constitution, Article 24 (16) Disciplinary Procedures state: "the member against whom the complaint has been made must be given in writing a short statement setting out clearly, with reasonable particulars, the nature of the allegations against him."
Attempts to contact Kissoon for an update on whether she had been notified by the Central Executive of the PNCR about the suspension were futile.