Hinterland education project launched in Region Nine
-consultations to inform strategic five-year plan
The Ministry of Education this month launched its Hinterland Education Improvement Project (HEIP) in Lethem, Region Nine which kick-started a series of public consultations aimed at informing a five-year action plan.
More than 300 parents, teachers and students from Kumu, Kaicumbay, Arapaima, MocoMoco, Quarrie, Yupukari, Fly Hill, Katoka, Hiawa, St Ignatius, Quatata, Nappi and Parishara assembled on June 9th at the St Ignatius Benab in Lethem for the launching, the ministry said in a press release.
In her address, Education Minister Priya Manickchand underscored government's commitment to the continuous improvement of the education sector in the hinterland noting that over the last 20 years it had grappled with reducing the disparity that existed between those areas and the coast.
"Last year 15.9 percent of the national budget was spent on education. This year 13 percent has been allocated, and we most likely will be spending more than that on the sector this year," she said. Manickchand also recalled that in 1992, five per cent of the national budget – which was a much smaller budget– was spent on education compared with this year's sum.
The ministry recognises that more attention needs to be given to the quality of education delivered in the hinterland with specific focus on learning outcomes. The HEIP was formulated to determine the gaps that exist in providing quality education and good learning outcomes. It consists of five components: Improving the quality of Teacher Education in the Hinterland; Aligning Teaching-Learning Resources to Improve Students' Outcomes; Improving Physical Facilities; Fostering Community Alliances and Strengthening Management and Supervision in the Hinterland.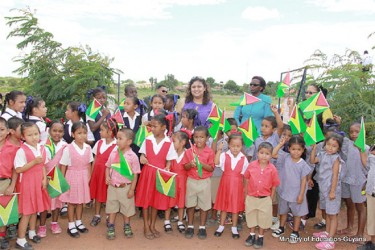 Through support from government and international organisations, a number of programmes were introduced all of which had components that targeted the hinterland areas, largely focusing on improving access and participation, Manickchand said. Some of these included the Primary Education Improvement Project (PEIP); Secondary School Reform Programme (SSRP), for which St Ignatius Secondary was a pilot; Guyana Basic Education Teacher Training Programme (GBETT); Basic Education Access Management Support (BEAMS) programme; and Education for All-Fast Track Initiatives (EFA-FTI).
"In 1994, there were 131 schools across the levels in the hinterland regions. Today there are approximately 250 schools in the hinterland across the levels. The ministry and government, with international support, constructed over 50 schools across all levels half of which are in the hinterland. This means that at least two schools were being built in a given hinterland region per year. There has been a significant increase in the number of secondary schools in the hinterland. In 1994, there were five secondary schools and today there are 12.
Other initiatives, such as the school feeding programme which was designed to improve students' attendance/participation in schools has also succeeded. "… student attendance increased from 64% in 1994 to 81% in 2014." Today, Region Nine also boasts two types of school feeding programmes; the hot meal and the cassava-bread and peanut butter snack.
Manickchand said too that the hinterland now boasts a larger number of trained teachers across all sectors, moving from 40% in 1994 to 51% in 2014. Hinterland teachers are also given support through the establishment of learning resource centres. According to the minister, a baseline study conducted in 2005 revealed that only 38% of the clusters in the hinterland had learning resource centres, today 92% of the clusters now have learning resource centres with 90% of the teachers utilising these facilities.
"Teacher accommodation has also been addressed over the years revealing that since 2000 when only 15% of hinterland schools had teachers' houses; today 90% of the schools have teachers' houses," she said.
Hinterland schools also have more access to water, electricity and good sanitation facilities. To date, 83% of schools in the hinterland have access to potable water and 45% access to electricity. 90% of schools have sanitary facilities; a vast improvement from 2001 where only 42% of schools had sanitary blocks and 27% and 13% had access water, electricity facilities respectively.
During the three-day visit, Manickchand and senior ministry officials visited St Ignatius, Sand Creek, Macushi, Toka, Massara, Aranaputa, Annai and Wowetta. The ministry will be visiting regions One, Seven and Eight in the coming months to continue these public consultations in an effort to formulate a comprehensive action plan targeting the areas earmarked.
Most Read This Week