In a departure from its usual truculent response to the US annual human trafficking report, which determined that Guyana was still not in full compliance with the minimum standards for the elimination of trafficking in persons (TIP), the local ministerial taskforce on TIP on Friday released its action plan for 2014-2015.
The undated plan, devoid of mention of the leading NGO in the anti-TIP movement, Guyana Women Miners Organisa-tion (GWMO), is said to be based on the '4P' paradigm outlined by the United Nations (UN) TIP Proto-col: prevention, protection, prosecution, and partnership.
At a press conference held to launch the plan, Minister Human Services & Social Security Jennifer Webster deflected questions as to why the GWMO is not part of the taskforce.
Despite its mandate of cooperation, the taskforce is yet to respond to requests by the GWMO to join. The organisation has reportedly written to Minister of Home Affairs Clement Rohee on a number of occasions but is yet to receive a response.
"Minister Rohee is the chairman of the taskforce and he might be able to answer that part of your question," Webster said on Friday. "He is not here but he will be able to answer that very clearly."
Rohee had been scheduled to attend the press conference.
Webster maintained though that the taskforce is committed to working with NGOs. "I would say that the government is willing to engage NGOs. Our position has not changed on this; we are willing to partner with anyone. I don't know why there is this perception that we do not want to engage that NGO," she said.
Seven government ministries are represented on the TIP taskforce along with two government agencies, the Indigenous People's Commission and two NGOs, Help and Shelter and Food for the Poor.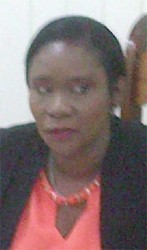 Meanwhile, according to its two-year, four-stage plan, the taskforce will conduct awareness and sensitisation sessions in communities throughout Guyana with the provision of support to 38 individuals trained last year September in a workshop on TIP.
Each stage will include a number of projects and activities. In the prevention stage, activities range from the distribution of 5,000 TIP awareness booklets to the training of 100 civil society representatives in identifying and reporting TIP.
The latest activity is scheduled to end in December 2015 with the earliest having begun in February of this year, the plan stated.
The protection stage, deemed "an essential part of any counter-trafficking response", will see the reintegration of survivors into communities and opportunities for employment and education along with the provision of voluntary psychosocial support. A tracer system and database of TIP survivors is to be developed.
The plan also identified the necessity of the provision of basic needs such as shelter, medical, and psychological and psychosocial care for alleged survivors of TIP.
Under prosecution, the plan includes projects such as the enhancing of the capacity of law enforcement coupled with the establishment of a TIP investigation and surveillance system. The taskforce also plans to conduct sting operations on suspicious businesses and training for law enforcement ranks, immigration and mines officers, attorneys, and magistrates.
In its final stage, the taskforce's plan said that it will continue to collaborate with members of NGOs and other stakeholders. "The focus being placed on partnership is superimposed on the framework of activities under the areas of prevention, protection, and prosecution," the action plan said.
The US State Depart-ment's 2014 TIP Report said government made minimal efforts to prevent trafficking and despite the ministerial taskforce's mandate to monitor and assess the government's anti-trafficking efforts, it did not report any results.
And though the report said that the Ministry of Labour, Human Services and Social Security had demonstrated concrete efforts to assist trafficking victims, it added that there were also reports that authorities failed to provide assistance specific to the needs of trafficking survivors and that victims who had been rescued were re-trafficked or became homeless after they did not received adequate protection services from the government.
The prosecution of traffickers has been the recipient of the brunt of criticism, with this year's report stating that Guyana's inability to hold traffickers accountable creates an environment for human trafficking.
Though Guyana has adequate TIP legislation and achieved three convictions during the reporting period, all three of the convicted traffickers were released on bail pending appeal.
"Trafficking victims have accused police officers and other government employees of cooperating with traffickers," the report further said.
The US recommended that Guyana boost efforts to hold traffickers accountable by vigorous investigations and prosecution.
Comments

UN experts condemn racist violence in U.S., urge investigations GENEVA, (Reuters) – United Nations human rights experts called on the United States today to combat rising racist violence and xenophobia and to prosecute perpetrators of hate crimes.

The twin-engine Beechcraft seized by authorities on an improvised airstrip on Sunday in the North Rupununi, Region Nine area, was yesterday confirmed as bearing a registration number belonging to an investment company in Brazil.

ExxonMobil yesterday signed a deal with Guyana Shore Base Inc (GYSBI) for an onshore support facility at Houston on the East Bank of Demerara.
While students who sat Caribbean Examination Council (CXC) exams in May and June of this year will be able to access their results online on Friday, the Ministry of Education has already announced that Guyana has recorded a 7% increase in passes at the Caribbean Advanced Proficiency Examinations (CAPE).

A post-mortem examination is expected to be done today to determine the cause of death of a nine-month-old baby, who died on Monday after she was left in a car.