The National Family Commission (NFC) at the last minute had to cancel yesterday's national men's rally and a couple's dinner that was to be hosted by motivational speaker Dr Myles Munroe after a communication breakdown resulted in Munroe not making it to Guyana.
According to Alex Graham of Tagman Media, which was providing public relations services to the NFC, "it was technical issues…there was miscommunication, a miscommunication occurred we are not sure who dropped the ball."
He stated that Munroe's plane was to land in Guyana at roughly 9:30 am, however that never occurred. Munroe's trip was paid for by the NFC, but Graham did state that there was a commitment to have this money reimbursed as well as for the tickets paid for by couples who wished to attend the dinner which was to be held at the Pegasus Hotel this evening. Munroe was to fly in from Colombia via his private jet and land at the Cheddi Jagan International Airport, Timehri.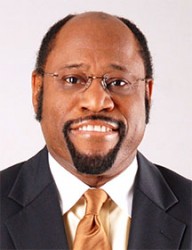 Graham said that there were a variety of costs that were associated with Munroe's visit and the rest were to be paid after the rally and the dinner and only the flight was paid for in advance since Friday.
Stabroek News understands that persons who wished to attend the rally were notified very late yesterday of the cancellation. The rally was to be held at the National Cultural Centre (NCC) tarmac at 16:30 yesterday. The venue for the rally was switched on Thursday from the National Park to the NCC.
Munroe had previously visited the country. In a statement released by the NFC last week, Munroe said "I am happy to return to Guyana and am looking forward to engaging with men in Guyana again."
Chairperson of the NFC, Reverend Dr. Kwame Gilbert said that this visit from Munroe was most opportune "given the crisis facing our families in Guyana as demonstrated in an unprecedented spike in domestic and sexual violence."
Stabroek News was unable to reach Gilbert yesterday to ask about the planning of the event and the plan to reschedule. According to a press statement, Munroe in addition to the rally and dinner was to also meet with a cross-section of national leaders today at the NCC. He last visited Guyana in 2010 and spoke during National Men's Week.
Comments

UN experts condemn racist violence in U.S., urge investigations GENEVA, (Reuters) – United Nations human rights experts called on the United States today to combat rising racist violence and xenophobia and to prosecute perpetrators of hate crimes.

The twin-engine Beech aircraft seized by authorities on an improvised airstrip on Sunday in the North Rupununi, Region Nine area, was yesterday confirmed as bearing a registration number belonging to an investment company in Brazil.

ExxonMobil yesterday signed a deal with Guyana Shore Base Inc (GYSBI) for an onshore support facility at Houston on the East Bank of Demerara.
While students who sat Caribbean Examination Council (CXC) exams in May and June of this year will be able to access their results online on Friday, the Ministry of Education has already announced that Guyana has recorded a 7% increase in passes at the Caribbean Advanced Proficiency Examinations (CAPE).

A post-mortem examination is expected to be done today to determine the cause of death of a nine-month-old baby, who died on Monday after she was left in a car.