A Berbice orphanage caretaker was yesterday placed on $200,000 bail after he was charged with sexually abusing a child.
Mohamed Deen, manager of the Anjuman Orphanage, Philadelphia Street, New Amsterdam appeared before Magistrate Sherdel Isaacs Marcus in the New Amsterdam Magistrate's Court.
It was alleged that between January 1 and May 24, Deen was engaged in sexual activity with a minor at the children's home.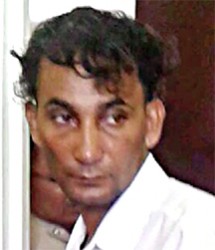 The particulars of the charge further stated that at the time of the incident the child was only 13 years old.
Deen is expected to return to court on July 14.
The Child Care and Protection Agency had removed five boys from the institution following allegations made by a 13-year-old that he was sexually abused by a caregiver and that the other children might have been abused as well. The child had fled the orphanage and reported the alleged abuse to his mother, who immediately contacted the authorities.
The management of the orphanage had denied that there had been any child molestation there.
Comments

Several candidates recorded outstanding performances at this year's Caribbean Advanced Proficiency Examination (CAPE).

 Geometric improvements will be carried out on the East Coast Railway Embankment Road come September for smoother traffic flow.
Swift action by the Law Enforcement and Investigation Division (LEID) of the Guyana Revenue Authority (GRA) aided in the removal of a large quantity of seized foreign chicken from two separate cold storage facilities in the Berbice area after it was discovered that the commodities were unlawfully being disposed of, the GRA said today.

Farha Faiz, a lawyer, speaks with the media after a verdict for the controversial Muslim quick divorce law outside the Supreme Court in New Delhi, India August 22, 2017.  

Defeat Tallawahs by 37 runs Chris Gayle, playing in his 50th CPL match, produced his 63rd T20 fifty as St Kitts & Nevis Patriots cruised past Jamaica Tallawahs by 37 runs to guarantee a place in the playoffs for the first time in their three-year history.