Dynamic Airways has received clearance from the Port Authority of New York and New Jersey   to commence operations out of JFK International Airport from next Monday, the airline's local partner Gerry Gouveia announced yesterday.
"I expect by Monday next week our problems would be resolved," Gouveia told a press conference yesterday.
A letter from the Port Authority, sent to the airline's Vice-President of Business Development Tom Johnson, states that operational approval was granted subject to the airline meeting all the requirements with regards to issues outlined, including aircraft noise and weight.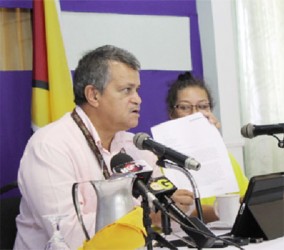 The airline was forced to use alternative airports in Connecticut and New Jersey to transport passengers to Guyana after a series of violations at JFK resulted in its use of the facility being blocked.
The company turned to ferrying travellers out of Atlantic City on Sunday and Monday and Bradley International Airport out of Connecticut on Tuesday for connecting flights into Guyana.
This was after last Friday's inaugural flight to New York, which was marred by delays, equipment breakdowns and poor service.
After leaving the Cheddi Jagan International Airport, Timehri, for the JFK International Airport on Friday morning, the flight was due to return to Guyana later in the day but US airport authorities stopped the plane from leaving after irregularities were discovered.
There was no assigned terminal for the airline and a ground handler mix up on the return flight to Guyana saw several regulations being breached.
When Transportation Security Administration (TSA) personnel made checks of the baggage, it was found that some of them had no passenger name tags and they were not allocated to any of the passengers on the travel manifest. TSA requires a one hundred percent bag match before a plane is cleared for takeoff.
Further, when checks of passengers were made, 10 were unaccounted for; they were later found onboard the plane and no one could say how they had passed the airline's boarding agents.
Gouveia said that the reason for no assigned terminal was due to an abrupt pullout by Fly Jamaica, with which Dynamic had negotiated to use the company's space. "Five minutes before the aircraft landed at Kennedy, we got word from Fly Jamaica that we could not," he said.
However, he said he would not seek to blame Fly Jamaica for its abrupt withdrawal from the arrangement but he stressed that all local airlines should work together to ensure persons travelling to Guyana receive stellar services, even if it meant sharing between the airlines. "This is the airline industry and the rule is always today maybe me, tomorrow you… so we should try to help each other, work together with each other," he stressed.
On the baggage issues at JFK, he explained that it was "three or four" bags that did not have name tags. He did not address the 10 passengers being on board the plane without clearance.
Gouveia took personal blame for the bungled ground handler service at JFK, saying that the company was chosen because its owner had Guyanese ties and he wanted to assist locals in getting jobs with the airline. "As far as I was aware and all of the documents that I saw, all of the ducks were in a row and lined up. If I had left Dynamic to go and do their negotiation with their ground handler—I'm the one who directed them away…so from here I say to you, I take the blame for that," he stated.
Gouveia said that while the company was fired, he still plans to meet with its representatives to find out what went wrong as he understands that human errors are made. He said that Dynamic would not seek compensation of any sort from the company because of this fact.
He also refuted claims that Dynamic was in any way associated with the now defunct EZjet. He explained that when the airline was under past ownership, it was the charter rented by EZjet for its flights. "EZjet is not Dynamic… we are not EZjet in no way. There are no synergies with us," he maintained.
Gouveia explained that the service that Dynamic provided to EZjet was similar to those provided to TravelSpan by Vision Air of the USA.
He also informed that his companies were coping well under the pressure and negative reviews it has received. He added that the criticism will be used as a lesson to strengthen the service of the airline. "You don't judge a good pilot by the fact that he can fly on beautiful sunny days… it's through the storms and nights… we are committed and here to stay so we get through this," he said.
Comments

A sketch of the proposed Curepe Interchange (Trinidad Guardian) China Railway Construction Corporation (CRCC) has been awarded a $221.7 million contract by the National infrastructure Development Company (Nidco) to build the controversial Curepe Interchange, the state company's chairman Herbert George has confirmed.

Legal Advisor to the Police, retired Justice of Appeal, Claudette Singh yesterday testified that there was insufficient evidence in the allegation made by Andriff Gillard of an alleged plot to assassinate President David Granger.

Today at 2 pm the 30 councillors of the Georgetown City Council will once again cast a vote on the future of metered parking in the city and several of them have told Stabroek News that they want to be sure their vote accurately represents a mandate from residents.

Crime Chief Wendell Blanhum yesterday made a written request to be recalled before the Commission of Inquiry (CoI) investigating the allegation of a plot to kill the President of Guyana to defend himself against "appalling" statements made by Assistant Commissioner of Police David Ramnarine.

Two men were yesterday remanded to prison by a city magistrate after they were charged with the fatal stabbing of Rawle Rodrigues which occurred in January.