(Trinidad Express) It took the repeating of her name by classmates for Cameel Juman to realise that Prime Minister Kamla Persad-Bissessar had announced she had placed second in the 2014 Secondary Entrance Assessment (SEA).
Cameel, 11, said she felt overwhelmed.
Persad-Bissessar visited the pupils who placed in the top three out of the 18,229 children who sat the exam last May. Her second stop was at Grant Memorial Presbyterian.
In 2013, the school produced the top pupil in the examination, Sandhya Sookhoo.
Cameel, who said she was happy at the news, will attend Naparima Girls' High School in San Fernando from September.
Until then, she plans to spend her August vacation on her electronic devices and relaxing.
She said she hoped to be rewarded with a tablet computer.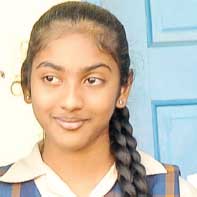 Cameel aspires to walk in her father's footsteps and become a doctor.
Nehru Juman, a Guyanese national, works as a physician at the Point Fortin Hospital.
He told reporters, "We're all very ecstatic … We're so proud of my daughter. Thanks to the teachers (Cameel's Standard Five teacher  was Lyndon Jute) and everybody. We're just all extremely proud. She has always been very successful academically."
Asked if he had expected his daughter to be named as one of the top three pupils in the exam, Juman said when he heard the ministers were coming to the school, he was optimistic.
He said his wife, Shelly, had always been involved in Cameel's schoolwork and studying was an activity his daughter enjoyed. "Even when there was no test to do, she would just pretend she was having school (and) go through her old exams. She has always been very occupied."
He said the family, which includes nine-year-old Connor who also attends Grant Memorial, and one-year-old Cody, lived in Grenada before heading to Trinidad. Cameel had also excelled on that island, winning the National Spelling Bee competition.
Persad-Bissessar told the school population that Grant Memorial was first in the top 200 schools.
"In other words, you're really number one in all the schools," she said.
This was met with screams and applause by those gathered in the courtyard for the visit from Persad-Bissessar, Minister of Education Tim Gopeesingh and Public Administration Minister and Member of Parliament for San Fernando West, Carolyn Seepersad-Bachan.
Comments

GEORGETOWN, Guyana,  CMC – Jason Mohammed completed his seventh first class hundred but there was little joy for Trinidad and Tobago Red Force as Guyana Jaguars needed a mere 45 deliveries to pull off an innings and 81-run win in their final round match here today.

LIMA, (Reuters) – Pope Francis wrapped up his trip to Chile and Peru today by warning that Latin America was in a deep crisis from corruption, with politics in most countries "more sick than well." Speaking in improvised remarks to bishops, he mentioned the scandal involving construction company Odebrecht, which has admitted to paying billions in bribes, as an example of greed run amok across the continent of his birth.

SYDNEY,  (Reuters) – England's Jos Buttler struck a belligerent unbeaten 100 to set up a 16-run win over Australia in the third one-day international on Sunday, as the touring side took an unassailable 3-0 lead in the five-match series.

The Public Procurement Commission (PPC) hopes that by the end of this year debarment legislation would be in place as it will soon begin meeting with stakeholders on a draft.

A bill to provide a legal framework for the protection of witnesses was passed without amendment by the National Assembly on Friday evening despite arguments by the parliamentary opposition that it failed to take into account modern challenges.