Breaking her silence on her suspension from the PNCR, parliamentarian Vanessa Kissoon says she was assaulted at the party's headquarters in an incident in which she was not the aggressor and was later suspended before a meeting of the party's Central Executive Committee was even convened.
In an e-mail response to a request for a comment by Stabroek News, Kissoon said that she had been reading articles in the media and hearing rumours that do not accurately represent what occurred on Friday, 20th June, 2014.
"At this time I prefer not to go into the details of the incident, save to say, that I was assaulted at Congress Place and I was not the aggressor…," she said.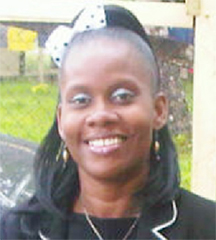 Stabroek News had been told that there was an altercation between PNCR General Secretary Oscar Clarke and Kissoon, apparently stemming from differences over the use of the party's facilities in Linden.
According to Kissoon, she was subsequently sent an email by party leader David Granger on June 24th, notifying her of her suspension. Kissoon had previously stated to Stabroek News that she was not made formally aware of her suspension.
Kissoon said in the email, which was copied to party Chairman Basil Williams, vice-chairpersons George Norton and Volda Lawrence, Clarke and Deputy-General Secretary Amna Ally, Granger said he had received "credible complaints" about her conduct toward Clarke on Friday, June 20th. According to Kissoon, Granger also directed her "not to transact any business by or on behalf of the party until the matter is determined by the competent authority."
According to Kissoon, she was alarmed by the course of action, especially since adjudicating credibility is best determined, if need be, by a duly-constituted disciplinary committee. "This act of ascribing "credibility" without due process conveys an unwillingness to arrive at the truth. I am disappointed that any source of "credible complaints" is sufficient to suspend me without a hearing, more so, used to violate my party's constitution," she said, while adding that the proposed suspension is in itself "a disciplinary act."
"Any act of taking away my rights without proving me guilty is a clear transgression of my rights and the violation of the party rules," she added, while referring to the party's constitution.
The constitution states that the proper disciplinary authority in a respect of a complaint against any member shall be the Disciplinary Committee, the Group Committee or a Sub-Divisional Committee. It also states that the powers conferred on these disciplinary authorities shall not exclude the right of the party's Congress, General Council or Central Executive Committee to exercise disciplinary authority or appoint any special person or committee to investigate and adjudicate upon any disciplinary matter.
Kissoon said she has since responded to Granger's correspondence, detailing her concerns.
Stabroek News was unable to reach Granger for comment. He has so far made it clear that the person tasked with speaking on the issue was Clarke himself. When Stabroek News spoke with Clarke briefly on Tuesday, he refused to answer any questions in relation to any investigation being done by the Disciplinary Committee and if he thought would it not be more appropriate for him to recuse himself considering he was the other party involved in the incident. Clarke instead repeatedly stated, "I don't have time for Vanessa Kissoon… I don't have time for this."
He also told Stabroek News that he was aware of the news articles and that he had nothing more to add since the newspaper was already adequately informed on the matter.
Questions have been raised about the PNCR's transparency following the party's reluctance to disclose details regarding Kissoon's suspension.
Most recently, at a meeting held in Linden on Monday, PNCR members questioned the decision to suspend Kissoon while no action was taken against Clarke. Party members were vocal when they questioned why Clarke was tasked with assisting in the investigation of the incident, considering his personal involvement in the altercation.
Kissoon, who has strong support in party stronghold Linden, previously said that under the party's constitution, "the member against whom the complaint has been made must be given in writing a short statement setting out clearly, with reasonable particulars, the nature of the allegations against him."
The PNCR constitution also states that "the member must be given a reasonable opportunity to defend himself and to call witnesses and produce documents relevant to his defence" as well as "the member shall have the right to be assisted at the inquiry by a party member of his/her choice." She said that none of the procedures were followed.
Comments

The African Cultural & Development Association (ACDA) yesterday reissued its call for an ancestral lands commission to address concerns surrounding the allocation of African Guyanese lands, as the third day of the Commission of Inquiry (CoI) into land ownership convened yesterday.

The sombre tone which pervaded the atmosphere during the announcement of this year's Caribbean Secondary Education Certificate (CSEC) results suggested that once again the Ministry of Education was not satisfied with the performance of the nation's students.

Three Executives of the National Toshaos Council (NCT) last evening walked out of a session attended by several Ministers of Government having felt disrespected by remarks made by Minister of Public Security Khemraj Ramjattan during the proceedings.

The  Commission of Inquiry (CoI) into African ancestral lands and other matters yesterday heard that land where the controversial Pradoville 2 scheme sits was transferred in 1920 by way of transport  to the predecessor of NCN, the British Guiana Broadcasting Company (BGBC).

Efforts by the government are underway to salvage the decades-old MV Torani, which capsized in the Mazaruni River and questions have been raised as to how this happened to the moored vessel.