An eight-year-old was struck and killed by a speeding driver yesterday while crossing the Land of Canaan Public Road, East Bank Demerara.
Gabriella Davidson, a Craig Primary School student, of Lot 40 Land of Canaan, East Bank Demerara, was crossing the road to catch a bus to go to school when the car struck her, flinging her body several feet away from her street corner.
"I saw the vehicle coming at fast rate and I holler that 'She dead! She dead!' There was nothing to stop the car from hitting her," a resident said. The man said he yelled at the driver to stop. The driver of the car PRR 1173, he said, came out and picked up Gabriella and carried her to the hospital.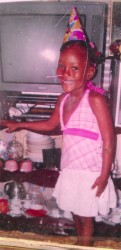 Gabriella's father, Victor, said he was sleeping when he heard his wife screaming that their daughter was hit by a car. "She and her mother was fussing about going to school and Gabriella told her that the place dark outside. After that I fall into a doze and I heard her mother screaming that she get knock down… when we run outside she was already gone," Victor cried.
When he arrived at the Diamond Diagnostic Centre, he was told by a doctor that her breathing was too slow and she had her neck broken. The doctor also told him that she was bleeding internally and her chances of survival were slim.
Gabriella died a few hours later.
"That was our only daughter," a distraught Victor said.
According to a police release, the driver of the vehicle was taken into police custody to assist with investigations.
Comments

Michael Bhopaul, 16, doesn't know if he is this year's best performer at    the Caribbean Secondary Examination Certificate (CSEC) Examinations, but with preliminary results showing that he has obtained passes in 25 subjects, he will be hard to top.

Inmates at the Lusignan Prison turned over 33 improvised weapons yesterday morning to prison authorities, who say that they also apologised to the prison staff for the unrest at the facility on Friday night.

Well known Berbice attorney Chandra Sohan was arrested on Friday after he allegedly struck a pedestrian in a hit and run accident along the Williamsburg Public Road.

For a little more than an hour yesterday, the streets outside the Mackenzie Market rang with the voices of dozens of Linden residents who turned out to support a march against homosexuality.
The woman killed during the violent storm in Jawalla, Region Seven on Friday, has been identified as a mother of two, who was seven months pregnant.