A four-year-old student succumbed on Wednesday while being rushed to the New Amsterdam Hospital for treatment after swallowing a tack.
Malakie McBean, of Kildonan Village, Corentyne, Berbice swallowed the tack while visiting his grandmother's residence with his mother.
Brenda George said her grandson and his mother visited her after he had left school. She went on to explain that at approximately 1pm on Wednesday, she and the mother were outside while her grandson was left inside the house playing.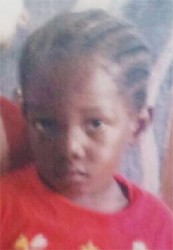 Sometime, after Malakie came and told his mother, "Mommy I swallow a tack," the grandmother recalled.
McBean's mother, after hearing the shocking statement, rushed the child to the Port Mourant Hospital, where he received medical attention before being prepared for transfer to the New Amsterdam Hos-pital.
However, George said her grandson died en route to the hospital.
When asked if it was normal for the child to play around the house unsupervised, George explained that her daughter was always cautious. "Candace takes him everywhere, she always careful with him even if she got to go market she take him.
She always look after her child," she said.
The boy's death came as a shock to the Kildonan community and neighbour and relatives converged at his home yesterday to offer words of comfort to his parents, who were still trying to come to grips with the tragedy.
Comments

The body of 13-year-old Leonard Archibald, who was raped and then dumped in the Berbice River, was recovered this afternoon.

Lawrence Duprey (Trinidad Express) Former executive chairman of CL Financial Lawrence Duprey was ordered by a Florida judge in July to pay more than US$60 million to British American Insurance Company (BAICO) in damages in relation to the TT$1.9 billion Green Island project in Osceola County, Florida.

Bharrat Jagdeo The PPP/C is committed to constitutional reform, says Opposition Leader Bharrat Jagdeo.

Ray Lengend Ray Lengend who went on a fire-bombing spree of mosques throughout southeast Queens, this week pleaded guilty to the crimes against Muslims who the 45-year-old Guyanese man claimed in 2012 had been "trying to take over his life", according to the Times Ledger in Queens, New York.

BEIJING/SEOUL, (Reuters) – A small earthquake near North Korea's nuclear test site on Saturday was probably not manmade, the nuclear proliferation watchdog and a South Korean official said, easing fears Pyongyang had exploded another nuclear bomb just weeks after its last one.