Patrick Pereira, the businessman and miner who stood up for the mining sector during a period of great uncertainty for the industry in 2010 when many miners feared that proposed conservation regulations would put them out of business, died on Wednesday. He was 75.
Hailed as an innovative and well-respected miner by President of the Guyana Gold and Diamond Miners Associa-tion (GGDMA) Patrick Harding yesterday, Pereira, in letters to the newspapers, interviews, ads, meetings- even clashing with then President Bharrat Jagdeo – was a leading voice defending the sector following the launch of the Low Carbon Development Strategy under which new regulations were proposed which miners said would cause the majority of operations to shut down.
Under pressure following protests and rallies throughout the mining districts, the government eventually backed down and some of the proposed regulations have not been implemented to date.
"He was one of our leading miners, well-respected," Harding told Stabroek News. He said that Pereira was known for his innovation and his company, the Pereira Mining Company was the first company other than Omai to own a hard-rock mine in Guyana. The company remains one of the leading mining companies in Guyana, he said.
Pereira was a former president of the GGDMA and also served on its executive. He was also awarded the Medal of Service.
Pereira's daughter, Danielle Carew, recalled her father's generosity and said that he was a very loving father who encouraged his children to get their education and be independent. He was also a promoter of Guyana, she said. "He was a very proud Guyanese," Carew said relating that when her dad travelled overseas, he would always boast about the wealth as well as the development and possibilities for the country. He was also a philanthropist, she said.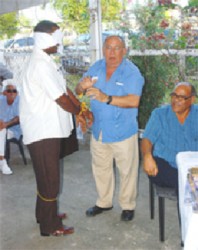 "The generosity part, it goes without saying," Carew said. "Even if he didn't have, he'd promise to come back and give a small piece." She recalled also that her father was instrumental in building roads in Buxton.
Carew recalled that her father left school early to help his mom with the family's rice business after his father fell ill. She said that the family was originally from Buxton and their farming operation was in Mahaicony. Pereira officially got into mining in 1978, she said. The Pereira Mining Company has grown and the family has also diversified their business.
Carew also related that her father was one of the first miners to implement measures to recover mercury and prevent it from escaping into the environment and recalled him taking her to one of the operations to view the process. "I think he had a good sense of balance in terms of the environment and production," she said.
Stabroek News was told that Pereira died as a result of congestive heart failure. His daughter recalled that he was admitted to the Caribbean Heart Institute (CHI) last week and was discharged after promising that he would take it easy.
His daughters and grandchildren had come into the country to see him and she was grateful that he got to spend some time with them.
She recalled that he had watched the Argentina World Cup football match. "He loved (Lionel) Messi," she said. Pereira passed away in his sleep at around 1:30am on Wednesday.
He is survived by his wife Andrea, children Natasha, Julio, Danielle and Ryan as well as five grandchildren. The funeral service is scheduled for Tuesday at 3pm at the Brickdam Cathedral.
Comments
British High Commissioner to Guyana Greg  Quinn  yesterday said that it was hoped that more would have been done to push the constitutional reform process forward.

A West Coast Berbice man died after he reportedly set his one-storey house ablaze sometime around 11.20 am yesterday.

A Yarrowkabra miner was yesterday charged with the murder of a co-worker, whom he allegedly beat to death during an alcohol-fuelled clash last Saturday at a dredge site in the Potaro Backdam.
A court action was yesterday filed challenging a directive issued in the name of President David Granger to the Police Service Commission (PSC) for a hold to be placed on planned promotions this year, Attorney Rajendra Jaigobin, who operates from the Chambers of former Attorney General Anil Nandlall, is seeking the following declarations by the court: "a declaration that the Police Service Commission, a Commission established by the Constitution of the Cooperative Republic of Guyana, in the exercise of its functions shall not be subject to the direction or control of any other person or authority;
UK security expert Lt Col (rtd) Russell Combe, who is working closely with the Guyana government to resuscitate the Security Sector Reform Action Plan (SSRAP), will be broadening his mandate to assess the country's prison situation.