A Victoria resident died and his US-based brother was injured following a head-on collision between a car and a mini-bus at Cove and John, East Coast Demerara yesterday.
Dead is Sabastian Frank, 33, of lot 108 Middle Walk, Victoria, who was the driver of the car. Injured is Selwin Carril, 36, who is on vacation in Guyana from the US.
"All I hear is a collision, no brakes ain't mash," said an anonymous eyewitness, who told this newspaper that the accident occurred some time after 1pm. "When they crash is when they stop," said the witness, adding that the car was heading east, while the route 44 mini-bus was heading west. He said in the bus was the driver, conductor and about four passengers, none of whom appeared to be seriously injured.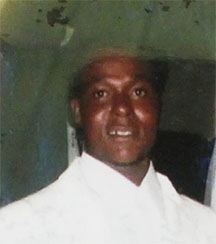 Sheldon Wilson, the brother of Sabastian and Selwin, told Stabroek News that he was at home when he heard about the accident. He said the family was informed that Frank was trying to overtake a vehicle and was unable to return to his lane in time.
Frank and Carril's mother Deborah Wilson, who was in a state of shock, told this publication that Frank had left home at 8.30 am in the company of Selwin to collect a barrel the latter had posted. She said she got the news of the accident while she was bottling seasoning in her kitchen, and it was when she arrived at the GPH that she learnt Frank was dead. Carril, she said, was crying out because of the pain in his chest; he was awaiting an X-ray at the Accident and Emergency Unit.
Frank leaves to mourn his wife and four children.
Stabroek News was unable to confirm whether the occupants of the bus were injured, and all attempts to contact police officials were futile.
Comments

A sketch of the proposed Curepe Interchange (Trinidad Guardian) China Railway Construction Corporation (CRCC) has been awarded a $221.7 million contract by the National infrastructure Development Company (Nidco) to build the controversial Curepe Interchange, the state company's chairman Herbert George has confirmed.

Legal Advisor to the Police, retired Justice of Appeal, Claudette Singh yesterday testified that there was insufficient evidence in the allegation made by Andriff Gillard of an alleged plot to assassinate President David Granger.

Today at 2 pm the 30 councillors of the Georgetown City Council will once again cast a vote on the future of metered parking in the city and several of them have told Stabroek News that they want to be sure their vote accurately represents a mandate from residents.

Crime Chief Wendell Blanhum yesterday made a written request to be recalled before the Commission of Inquiry (CoI) investigating the allegation of a plot to kill the President of Guyana to defend himself against "appalling" statements made by Assistant Commissioner of Police David Ramnarine.

Two men were yesterday remanded to prison by a city magistrate after they were charged with the fatal stabbing of Rawle Rodrigues which occurred in January.