Missing Sophia man found in canal
The body of a twenty-five-year-old male nurse was found yesterday floating in the Lamaha Canal three days after his family reported him missing and relatives believe his mental illness may have contributed to his drowning.
Terron Watts, a graduate nurse and former student of the University of Guyana, who is attached to the New Amsterdam Hospital was found early yesterday morning by residents of South Sophia days after he went missing.
His aunt Coretta Eastman told Stabroek News that her nephew was on anti-psychotic medication as it was only Monday last that he was again taken to the Georgetown Hospital Psychiatric Unit for evaluation and admitted for observation. She said that he was kept for three days and the day after his discharge went missing.
The woman informed that this was not the first time the young man had to be treated for mental illness. She said she believes it is because of the stress and pressures at home because of the lifestyle he had chosen that led to his mental breakdown.
She said her nephew would visit her Norton Street, Lodge home and ask to stay there.
Watts was familiar with the Lamaha Canal as he would frequently go there to bathe or sometimes opt to swim in the Atlantic Ocean.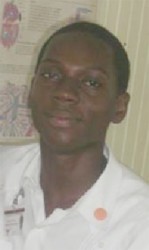 His aunt said she did not want to speculate but given the circumstances under which her nephew left home she would not doubt if an autopsy report determined that his death was self-induced.
Eastman described her nephew as a loving and quiet person who she was fond of.
She lamented on how he will be missed by her as he was always "such a good person".
Police are investigating and an autopsy will be performed on Wednesday.
Most Read This Week