Precedent exists for US voice on polls -Ramkarran
By relying on "feral" responses by an invited "warrior" to the home of outgoing US Ambassador Brent Hardt, President Donald Ramotar lost the opportunity of defending his position on local government elections, former PPP stalwart Ralph Ramkarran says even as he noted that there is a precedent for US intervention in relation to elections.
"While the Ambassador's public remarks about the President's inconsistencies may not be usual, public figures are expected to defend themselves, which is what the Ambassador no doubt expected," Ramkarran wrote in his column in the Sunday Stabroek.
Acting Minister of Foreign Affairs, Priya Manickchand at a reception at the ambassador's residence on July 2, launched verbal salvoes at her host over his criticisms of government officials over long awaited local government elections. Her statements came in wake of the ambassador's recent public criticism of the excuses given by the Ramotar administration and the president himself for not holding local government elections. She was jeered and booed during her remarks at the reception to mark the United States' 238th independence anniversary as well as Hardt's farewell.
The administration defended the verbal attack and Head of the Presidential Secretariat Dr. Roger Luncheon hailed Manickchand's "feral and fitting blast" to Hardt.
Manickchand has since said, in a programme on NCN, that the attack was a "personal attack" on Hardt. "This is about a person who holds himself out and who has been sent to represent the United States and I think that person understands that it's about him," she said. "It was a repudiation of the behaviour of this individual over the last three years particularly over the last year and a half." Manickchand also said the ambassador had gone "rogue."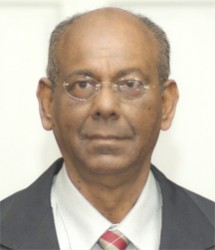 Ramkarran, in his column, pointed out that Guyana has already accepted the precedent for intervention in its internal affairs in relation to elections and said that this "intervention" is not likely to stop anytime soon. He noted that ambassador Hardt has been accused of being disrespectful to President Ramotar by pointing out what he saw as seeming inconsistencies in his defence of the Constitution. "He pointed out that President Ramotar rejected the Local Government Commission Bill on the ground that it is unconstitutional but defends not holding local government elections which violates the Constitution," Ramkarran wrote.
The former Speaker of the National Assembly said that Guyana has already accepted the precedent for intervention in its internal affairs in relation to elections. "In December 1989 Cheddi Jagan, in a letter to President George H W Bush, urged his support for free and fair elections in Guyana. President Bush, as if in response but without saying so, expressed the hope to President Hoyte on Republic Day, February 23, 1990, that the elections would be free and fair. The message was repeated by the State Department and six Senators later wrote Secretary of State James Baker requesting that US aid be tied to free and fair elections," he recounted.
"President Hoyte's initial reaction to President Bush and the late Senator Edward Kennedy's letter making the same call was similar to the reaction of our government now. In fact, President Hoyte said that he had thrown Senator Kennedy's letter in the garbage. But President Carter then entered the picture and free and fair elections came under direct American tutelage. Apart from national elections, the PPP fought for local government elections since 1970 when they were last held under the PNC," Ramkarran noted. "If the US is inconsistent, what about Guyana," he questioned.
The president is quite capable of defending his position but by relying on "feral" responses by an invited "warrior" to the Ambassador's home, Ramotar lost the opportunity, Ramkarran said. He noted that public figures are expected to defend themselves.
"In all of these situations I try to think of what (PPP founder and late President) Cheddi Jagan would have done. Never, ever, taking criticism personally, being offended by it or being confrontational or personal, he would have first engaged the Ambassador by telephone as he often did. Then, if necessary, he would have made a public response to the issue," Ramkarran said.
He had earlier noted that the principle of non-interference in the affairs of one state by another, crystallized by the UN Charter, has been invoked in defence of sovereignty on numerous occasions since the end of the Second World War. "During the Cold War the West carried out a persistent campaign against the lack of freedom, free elections, a free press, freedom of movement and other freedoms in socialist countries. At the same time the West was unconcerned about lack of the same freedoms in countries which were their allies and even subverted those same freedoms where they existed, from Mossadeq to Allende. Even today, there is a vast difference in the approach of the United States to Saudi Arabia and to Cuba," Ramkarran noted.
"Guyana and the PPP were victims of this double standard and it is this history that conditions Guyana's response to calls for local government elections from the United States. Ambassador Hardt is aware of this but says that this is US Government policy so that this 'intervention' is not likely to stop any time soon," he said.
"While we have to await the responses of the other Western and European diplomats to see if their ardour for local government elections will now cool, we must recognize that there are well-established diplomatic protocols by which responses to such calls, if considered to be interference in the internal affairs of Guyana, or even insulting to the President, can be delivered," he emphasised.
"Ambassador Hardt will probably accept but seek to explain the inconsistencies of the US's post war diplomatic history, some of which are maintained in its current postures, but argue that those are no reason why Guyana should not have local government elections or why the United States cannot call for them. The Ambassador may then well argue that the issue of democracy has long ceased in international relations and in US foreign policy to be purely a domestic matter," Ramkarran wrote.
Ambassador Hardt has been a friend of Guyana, has laboured diligently to contribute to the welfare of Guyana and to further strengthen relations be-tween the United States and Guyana, he added.