Crews from the Guyana Power and Light Inc (GPL) were yesterday working feverishly to restore power to areas on the Corentyne that had been hit by a freak storm on Sunday.
At Kiltern and Number 61 Village, crews were yesterday observed repairing and installing new poles and Regional Chair-man David Armogan told Stabroek News that power had been restored to villages on the upper Coren-tyne after nearly 8 hours of outage.
Meanwhile, many villagers were still in a state of shock and were counting their losses yesterday.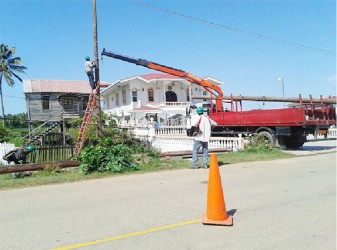 During the approximately two hours long squall, this newspaper was told, a few citizens' house fell, along with trees and utility poles, while zinc sheets were torn off the roofs and blown away in other places.
The unexpected storm reportedly began around 12:35 hrs.
At Williamsburg, a family lost household equipment and their house almost went up in flames. The Gopielall family recalled that they were watching television when the winds began blowing heavily accompanied by intense rainfall. Indranauth Gopielall said he then heard a loud noise and when he looked out he saw that a utility pole had fallen on his neighbour's home.
He saw the electrical wires sparking followed by a burst of flames. Gopielall said he went to turn off his refrigerator and got shock-ed. His wife then turned off the main switch. However, the electrical sparks continued outside and the family was forced to use muddy water to put out a small fire and soak other parts of the house.
The family said they made numerous calls to the utility companies but no one showed up.
Meanwhile, at Tain, a three-year-old sustained a minor injury after a length of wood fell and hit him on the nose; the resulting wound had to be stitched. The incident occurred as the family was exiting the house. The family of five also lost their home.
Mulchan Raghubir, 28, said he, his wife and three children were in their small house and they felt the heavy winds. Raghubir said his wife warned that the house would fall, but he told her they were living in the house for ten years and nothing had happened. At that said moment, he recalled, the house started to move and all they could have done was collect their three children and exit. The house crashed down, dismantling in the process.
This family is clueless as to the next move. Raghubir said they are incapable of rebuilding any time soon. They are seeking the public's assistance.
Approximately five small houses along with the Johanna Primary School were damaged in the Johanna, Yakusari area. Zinc sheets flew off, while trees and crops were uprooted. Stabroek News also understands that a house fell down in Black Bush Polder but no one was injured.
The Johanna Primary School roof lost a number zinc sheets, according to Armogan, who said the RDC would give whatever assistance it can.
Comments

Michael Bhopaul, 16, doesn't know if he is this year's best performer at    the Caribbean Secondary Examination Certificate (CSEC) Examinations, but with preliminary results showing that he has obtained passes in 25 subjects, he will be hard to top.

Inmates at the Lusignan Prison turned over 33 improvised weapons yesterday morning to prison authorities, who say that they also apologised to the prison staff for the unrest at the facility on Friday night.

Well known Berbice attorney Chandra Sohan was arrested on Friday after he allegedly struck a pedestrian in a hit and run accident along the Williamsburg Public Road.

For a little more than an hour yesterday, the streets outside the Mackenzie Market rang with the voices of dozens of Linden residents who turned out to support a march against homosexuality.
The woman killed during the violent storm in Jawalla, Region Seven on Friday, has been identified as a mother of two, who was seven months pregnant.