In what can be described as the biggest drugs seizure for the year, ranks of the Customs and Anti-Narcotics Unit (CANU) yesterday confiscated large quantities of Jamaican marijuana (high grade 'weed'), cocaine and cash during an operation in the Golden Grove/Diamond, East Bank Demerara area.
Two persons have since been arrested.
According to a CANU press release officers first discovered 1,227 kilogrammes (kg) or 1.2 tons (2,690 pounds) of Jamaica marijuana at a home and one person was taken into custody. The release said that during the search of another location in the same vicinity, officers searched another home and found 4.2 kilogrammes (9.2 pounds) of cocaine and over $1 million in cash. Another person was taken into custody in connection with the incident.
This interception came hours after police narcotics ranks found over 17 kg of cocaine concealed in ceramic ornaments which were being prepared for shipment to Ireland.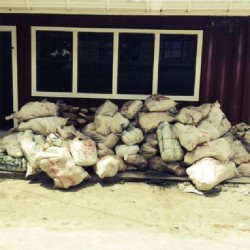 When Stabroek News visited the area residents said that they were unaware of the operations and more so that they had not seen police or CANU ranks during the course of the day. Stabroek News understands that the operation got under way during the early afternoon hours.
One resident stated that the presence of drugs in the area is of no surprise to him as it is a known occurrence. He went as far as to point out a location where it is being sold.
The quantity of marijuana found raised questions about its origin. A source said that based on his knowledge Jamaican marijuana is not being grown here. The point was made that growing this grade of the drug which is considered to be high, takes a lot of care and patience.
According to the source, the possibility exists that the marijuana was imported. The source noted too that moving it around to where it eventually ended up was not a hard task. It was added that it would appear that somebody might have been angry about some part of the deal and as such decided to snitch. The source said that that drug traffickers do not keep their stash, especially such a large quantity at one location for a long period of time as they want to avoid detection at all costs.
This was not the first time that large quantities of marijuana with ties to Jamaica ended up here. Last July, 640 kg of compressed marijuana were found concealed in a container full of cars at the John Fernandes Terminal on the Back Road. The container which came to Guyana from Jamaica had arrived a month before it was opened for the first time. The bags of cannabis were found mainly under the spare wheels in the trunks of the cars.
Though the shipper and the broker were being questioned about the find no one was ever charged.
The Guyana Revenue Authority (GRA), had said that the container originated from Japan and was transshipped in Jamaica.
Security sources had expressed the view that the marijuana was heading to Europe where there is said to be an increasing demand for high grade marijuana and that Guyana was just used as a transshipment point as it was probably believed that passing it through Guyana would have guaranteed an easier passage to its intended destination.
One source said it is possible that this is the same arrangement with the Jamaican marijuana which was intercepted yesterday. It was pointed out that there have been many instances where marijuana was intercepted in Corentyne, Berbice while on its way to Suriname, an indication that Guyana may be a transshipment point for the high grade cannabis. It was pointed out that like cocaine Guyana does not have the market for large quantities of marijuana. As such, given the lack security mechanisms particularly when it comes to drug interception, Guyana is used by drug traffickers as a transshipment point.
Back in February 2011, CANU officers had discovered some 393 kg of marijuana in a container on the John Fernandes wharf days after it arrived here from Jamaica. Three men were later charged in connection with that bust.
The source stated too the drug traffickers are getting bolder as they are finding that marijuana is just as lucrative a business as cocaine. It was noted that marijuana cannot be concealed as easily as cocaine so lots of thought and planning would go into how this type of drug can be moved.
The source stated that recent increase in drug interception is a clear indication that Guyana is a hot spot and he added that this is all the more reason why the Drug Enforcement Agency (DEA) needs to set up office here. "Once that offices comes into being trouble will start," the source said, adding that the bigger shipments "not these chicken feed finds" will be intercepted. He said that had the DEA been here sooner, the drug trafficking that is being seen now will not have reached this level.
It was outgoing US Ambassador to Guyana, Brent Hardt who revealed that the DEA will be established here as part of a shift to boost Washington's presence in the region. He made this revelation during a joint press conference at the Office of the President late last month.
He said that while the DEA had been working with Guyana's anti-narcotics and law enforcement agencies, he always believed that an office on the ground in this country would allow the counter-narcotics cooperation to be taken to another level.
Hardt explained that the office would be based at the Duke Street, Kingston Embassy complex but other units will work at a facility determined by government.
President Donald Ramotar welcomed the US Congress's decision to okay the funding for the project. He said that from the beginning of his tenure, it was something he wanted.
He said that he wanted to make Guyana "totally inhospitable to those who traffic illicit drugs" and sees the move to have the DEA office here as a major step forward in this area.
In response to having the DEA office housed in the embassy, Ramotar said he thought it was a means of cutting cost as "even rich countries like the United States look at cost too."
In February of this year, government maintained that it was the US that had refused offers of a building to set up the DEA office here in 2005.
Members of the opposition parties as well as acting Commissioner of Police Seelall Persaud embraced the announcement with open arms. Persaud told Stabroek News that "the DEA will be a tremendous help to the Guyana Police Force. We have been collaborating with them since 1988 but now that they will have an office here the work will be enhanced. It is better to be able to communicate face to face and share data than to have to interface over the telephone."
Besides these large marijuana busts there have also been several large cocaine interdictions. Last February 36 kg of cocaine and two magazines with live rounds were found by CANU ranks in a house at Ogle, East Coast Demerera. Two persons were later charged.
In November 2012, a container of packaged soap powder at the John Fernandes terminal was found to contain 300 kg of cocaine worth approximately $10 million. Exporter Dennis Jones took ownership of the drugs and was sentenced to four years in prison.
Less than a month later at the Timehri airport 21.8 kg of cocaine were found in drinking straws which were made to look like macaroni and then hidden in boxes of mangoes destined for Canada. Two persons were later arrested and charged.
Some 233 kg of cocaine were also found concealed in fish food resulting in a man being charged.
Over the years, cocaine has been concealed in a variety of other ways including in lumber. Last year February over 359.8 kgs were found concealed in hollowed out logs which were destined for Holland. The bust was made at a Soesdyke based sawmill. Three persons were later charged.
Comments

Michael Bhopaul, 16, doesn't know if he is this year's best performer at    the Caribbean Secondary Examination Certificate (CSEC) Examinations, but with preliminary results showing that he has obtained passes in 25 subjects, he will be hard to top.

Inmates at the Lusignan Prison turned over 33 improvised weapons yesterday morning to prison authorities, who say that they also apologised to the prison staff for the unrest at the facility on Friday night.

Well known Berbice attorney Chandra Sohan was arrested on Friday after he allegedly struck a pedestrian in a hit and run accident along the Williamsburg Public Road.

For a little more than an hour yesterday, the streets outside the Mackenzie Market rang with the voices of dozens of Linden residents who turned out to support a march against homosexuality.
The woman killed during the violent storm in Jawalla, Region Seven on Friday, has been identified as a mother of two, who was seven months pregnant.