A Diamond resident was shot on Tuesday evening after five men bullied their way into his home with a gun and robbed him of over $300,000 in cash, jewellery and smartphones.
Dellon Frank, 29, of Lot 1867 Section 'C,' Block X, Diamond, East Bank Demerara, told Stabroek News that he was watching television with his 13-year-old brother when he heard someone call out to him from the gate at approximately 8pm.
He responded and explained that three of the five bandits approached him with a gun and demanded his gold chain. He said as one bandit tried to burst the chain from his neck, he begged them to let him take the chain off. He said in the midst of taking off his chain, one of his two Samsung galaxy smartphones fell to the floor and one of the intruders reached for it. Frank said at that moment, he took the opportunity to run from the men but only managed to reach the front door before the gunman caught up with him and shoved him into the house.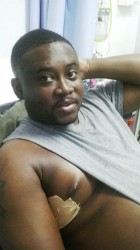 "I start to punch away on he," Frank said. However, one of the other bandits then choked Frank from behind and called out to the gunman to shoot Frank.
Frank said he wriggled out of the hold and flung the front door grill towards the gunman, who ran outside, while he ran to the kitchen. It was then the gunman returned into the house and shot him in his back once. The five men then made good their escape.
A police press release stated that Frank and a group of men were involved in an argument at Diamond, during which he was shot to his left side. According to the release, investigations are in progress.
Frank said he believed that someone sent the men to his home, since they called out to him by his name. He further mentioned that it was his continued resistance that saved his life and prevented them from noticing his brother in the house. He said it was his brother who tended to his wound until he was able to seek medical attention.
Frank said the bandits stole his two Samsung Galaxy smartphones, valued at about $165,000 per phone, $40,000, a gold chain and a few hundred dollar bills.
Comments

Several candidates recorded outstanding performances at this year's Caribbean Advanced Proficiency Examination (CAPE).

 Geometric improvements will be carried out on the East Coast Railway Embankment Road come September for smoother traffic flow.
Swift action by the Law Enforcement and Investigation Division (LEID) of the Guyana Revenue Authority (GRA) aided in the removal of a large quantity of seized foreign chicken from two separate cold storage facilities in the Berbice area after it was discovered that the commodities were unlawfully being disposed of, the GRA said today.

Farha Faiz, a lawyer, speaks with the media after a verdict for the controversial Muslim quick divorce law outside the Supreme Court in New Delhi, India August 22, 2017.  

Defeat Tallawahs by 37 runs Chris Gayle, playing in his 50th CPL match, produced his 63rd T20 fifty as St Kitts & Nevis Patriots cruised past Jamaica Tallawahs by 37 runs to guarantee a place in the playoffs for the first time in their three-year history.