Jermaine Carroll, the man accused of causing the death of six-year-old Joseph Quallis by dangerous driving, was yesterday finally granted his release on $400,000 bail.
At yesterday's hearing before Chief Magistrate Priya Sewnarine-Beharry at the Georgetown Magistrates' Courts, attorney Paul Fung-a-Fat informed the court that he was now representing the accused and made a successful bail application for his client.
On his first two appearances Carroll was unrepresented by counsel.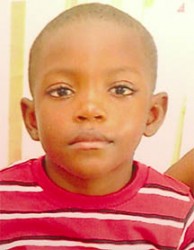 Fung-a-Fat said that according to his instructions, the child was walking alone and spontaneously dashed across the road and that there was nothing that his client could have done.
In his bail application, the attorney said that his client does not own a passport but would lodge his national identification card and would be willing to report to any police station the court desires.
He further stressed that his client would be unable to drive since his driver's licence has been taken away and lodged with the police since the accident.
Prosecutor Bharat Mangru had no objection to bail.
Carroll was subsequently informed that he would be granted bail to the tune of $400,000 on condition that he reports daily to the subordinate officer-in-charge of traffic at the Ruimveldt Police Station.
His next court date is July 31.
Carroll, 28, was remanded to prison after his arraignment on June 16.
The allegation against the Stevedore Housing Scheme resident is that on June 12, at Georgetown, he drove a car, PPP 5931, in a manner dangerous to the public, thereby causing the death of Quallis.
Additionally, Carroll was charged with driving without insurance for third party risk being enforced at the time.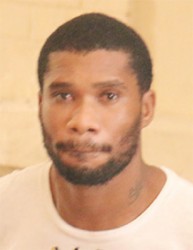 He pleaded not guilty to both charges when they were read to him.
The police's case is that Carroll was proceeding west along Middle Road La Penitence at a fast rate when he collided with the child.
Prosecutor Mangru had said that at the time of the accident the lad was standing on the southern side on a bridge.
The court heard that Quallis was subsequently rushed to the Georgetown Public Hospital, where he succumbed to his injuries.
The child was struck and pinned into the bars of a steel fence. He was rushed to the hospital and was quickly attended to before being taken to the intensive care unit (ICU) in a critical condition where he later died.
Comments

Eighteen prisoners at the Lusignan penitentiary were being treated for injuries last night following a reported attempt to kill a fellow inmate during which warders fired shots.

A 12-year-old girl is now dead, while her brother narrowly escaped a similar fate yesterday after their aunt's La Bonne Intention (LBI), East Coast Demerara house, which they were under, collapsed on them.

Guyana has officially applied for membership in the European Union's Extractive Industries Transparency Initiative (EITI) which will help in tracking revenues from oil and other natural resources.

State Minister Joseph Harmon yesterday reiterated that President David Granger's directive to the Police Service Commission to halt its consideration of promotions was intended to prevent damage to the image of the Guyana Police Force but he could not say under what authority the head of state acted.

While saying that a strong security presence along the country's borders is the first line of defence against transnational criminal syndicates, President David Granger yesterday called for cooperation by all actors to see the security of Region Nine as a priority.